Ever since ChatGPT made its debut last year, AI writing tools have become a major topic of interest. While they aren't poised to take over the world just yet, they have reached a point where they can be highly beneficial. In specific circumstances, these AI text generators can facilitate faster, more efficient work and produce better, higher-quality copy that reflects your brand.
However, it's important to note that all AI writing software requires human supervision for optimal results. Left to its own devices, it tends to create generic and often incorrect content, despite its passing resemblance to human writing. I even considered using an AI text generator for this article's introduction, but it felt disingenuous. While these latest AI writing tools can create a well-written introduction, they cannot provide an actual opinion on its quality. That's where humans come in. From my experience, many of these AIs tend to overestimate their present-day importance and accomplishments.
What is the functioning process of AI writing tools?
If you search Google for AI writing software, you'll come across a plethora of options that seem almost too similar. This is largely because 95% of these tools use the same large language models (LLMs) behind the scenes. Many of these applications act as mere shells linked to the GPT-3 and GPT-4 APIs created by OpenAI, with a couple of added features.
However, don't let this detract from the usefulness of these AI-powered writing apps. They all provide a better experience than ChatGPT or OpenAI's playground, both of which also utilise GPT for text generation. While the output quality may not vary much across the different apps, the main selling point is the ease of integrating AI text generation into your workflow – where the listed apps truly shine.
Best AI Writing Tools to use
1. Rytr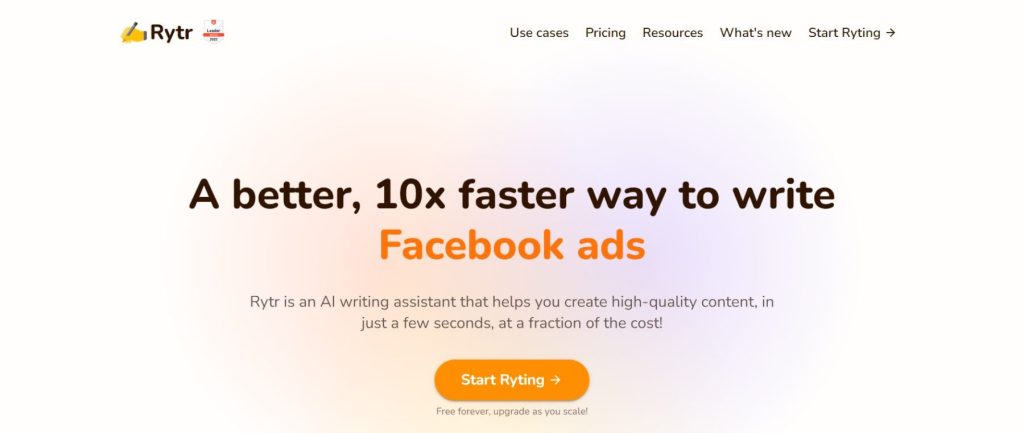 With one of the widest ranges of AI writing tools available, Rytr is a leading writing platform that uses AI technology to generate top-notch content. Designed for marketers with diverse needs, it offers copywriting frameworks, blog templates, and applications of crafting product descriptions. Using Rytr will transform the way you approach writing forever.
This AI-powered platform is ideal for generating high-quality content at lightning speed, servicing a broad range of industries, from marketing to eCommerce. Its intuitive interface is easy to navigate, even for novice writers who lack experience in AI writing or writing in general. Additionally, Rytr Chat enables human writers to create content promptly by issuing specific prompts to be added seamlessly into the platform's long-form editor.
2. WordHero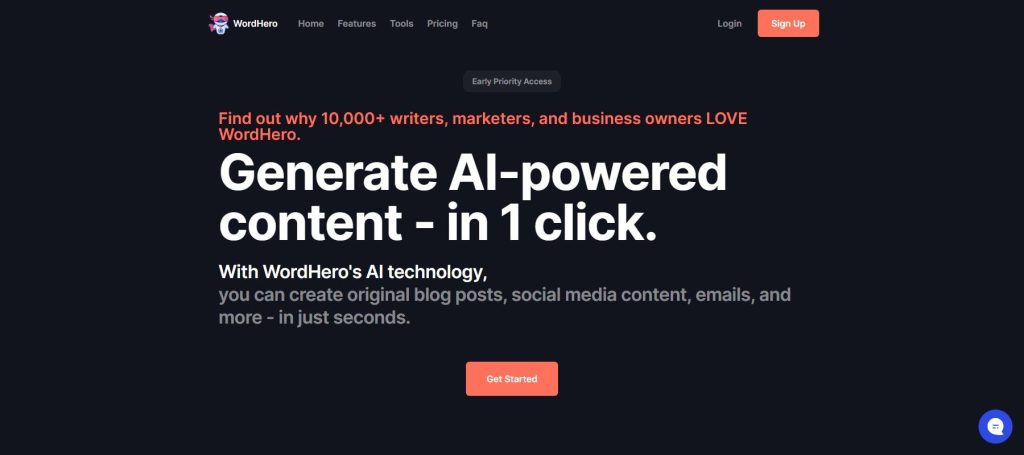 A versatile AI writing tool, WordHero, has proven to be highly effective for business applications and is now available on AppSumo with an unlimited-word lifetime deal. It excels in generating content on the fly, whether it's for Word documents, Slack channels, or marketing campaigns.
While its long-form editor is capable, the user experience and file organization could use some refinement. WordHero has a devoted following of users who provide feedback and suggestions to the development team, indicating that the platform is poised for further enhancements.
3. Copy.Ai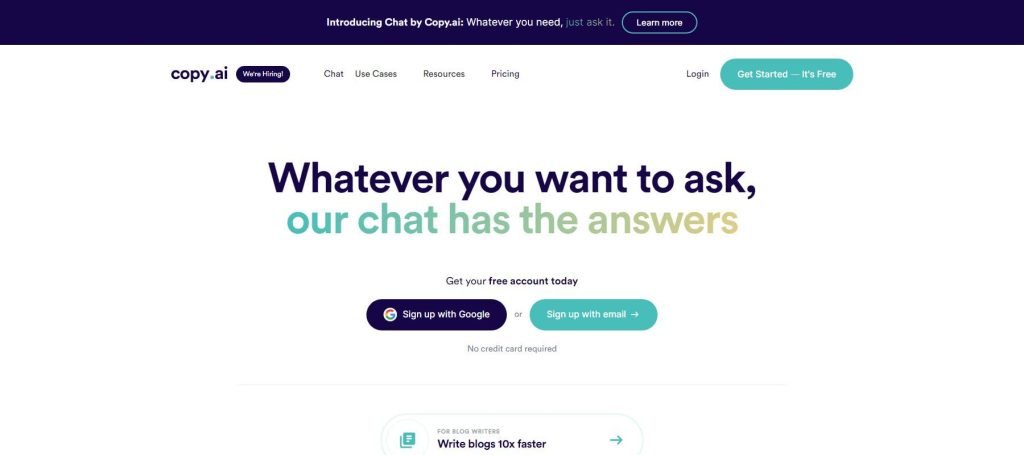 Copy.ai is an AI content generator that is highly popular, with over 6 million users. It is designed specifically for creating AI blog content, social media posts, and email marketing copy. Additionally, it comes with a range of innovative tools and integrations that are useful for sales and marketing professionals. With the aid of AI, this product can significantly boost an individual's or team's productivity for specific tasks.
One of Copy.ai's useful features is its API for Linkedin. This feature allows users to extract prospect information from a CRM or their Linkedin profile. This information then helps to create a tailored cold-outreach message that is personalized and crafted with proper copywriting principles.
4. WriteSonic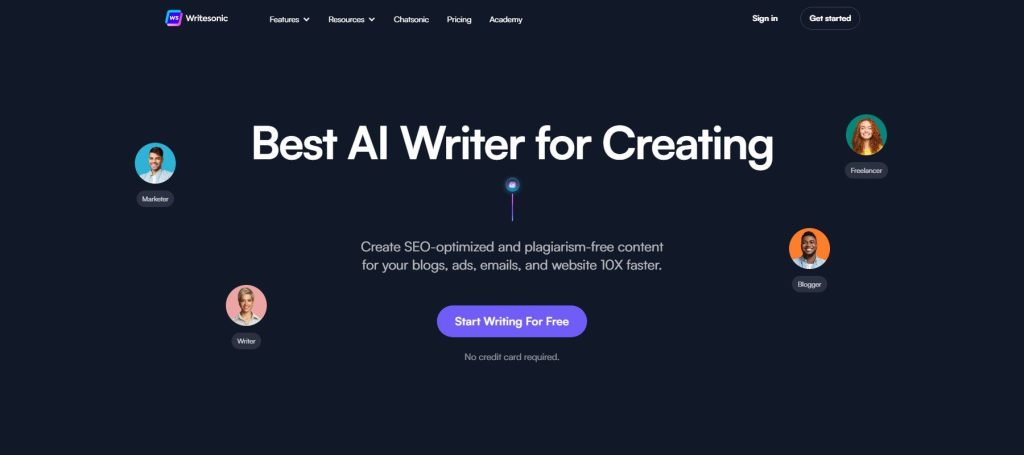 Writesonic, an AI writing software, offers a comprehensive platform with a host of features. While its free plan provides 10,000-word access to its optimized GPT 3.5 platform, its paid plans can work with GPT 4. The software also boasts of innovative products like Photosonic and ChatSonic that offer additional AI-powered tools to users.
With Writesonic's advanced AI technology, generating top-notch written content becomes faster and easier. The platform comes equipped with advanced editing tools, enabling users to customize their content to perfection.
5. Scalenut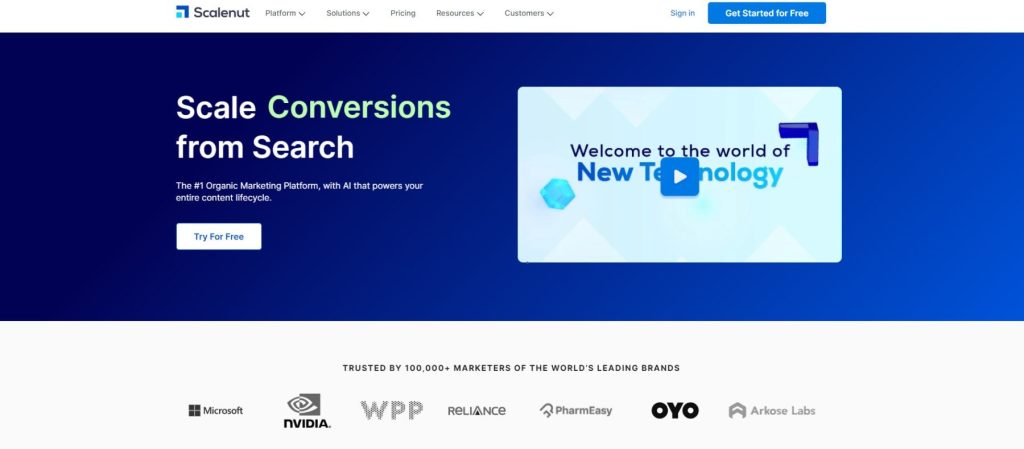 Scalenut is an exceptional AI writing aid designed specifically for SEO and content marketing purposes. Its primary function is to assess the top-ranking pages for your targeted keywords and supply suggestions on enhancing your content accordingly. Whether for a single article or a group of articles, Scalenut ensures a complete content strategy that establishes subject matter expertise.
By utilizing Scalenut, companies can automate their entire content production process from planning to keyword research, writing, and optimization. This feature is highly beneficial for reducing the burden on human staff and enhancing overall efficiency without replacing the team.
6. Jasper.Ai

Jasper, once known as Jarvis, is a highly sought-after AI writing platform that offers a range of powerful tools for creating long-form content, SEO content, blog posts, sales emails, and much more. The platform, in addition, offers education through training sessions, coursework, and conferences to attract AI users.
Jasper is a well-respected brand that is constantly refining its world-class AI solutions. It caters to larger-scale operations and produces top-notch generative content with its impressive suite of tools.
7. Sudowrite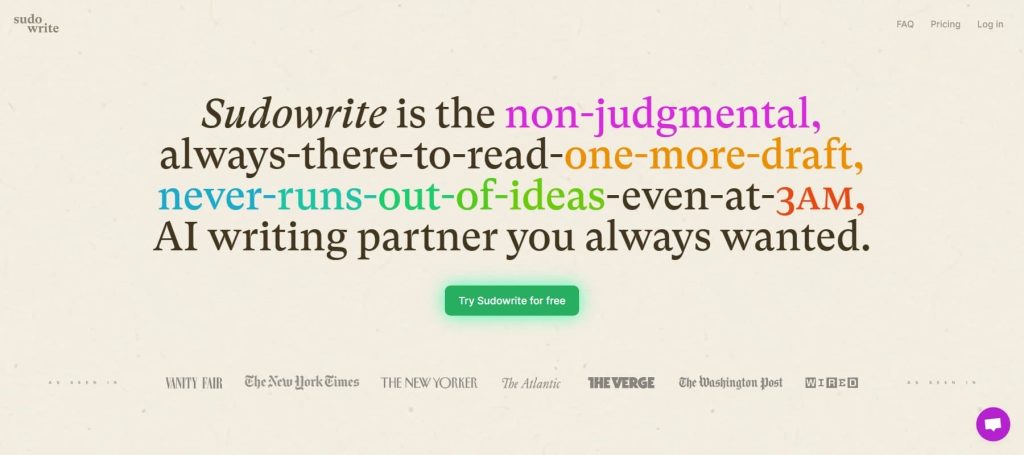 Sudowrite is a writing software driven by AI that caters solely to storytelling and any other creative content. Rather than relying on templates like some other platforms, Sudowrite prioritizes the workflow of writing as a whole.
With Sudowrite, you receive a preliminary draft, thoughtful suggestions, and editing tips curated specifically for descriptive and imaginative writing. Unlike most AI writing software geared toward blogging and business applications, Sudowrite offers a distinctive and distinctive approach.
Conclusion
After exploring the top AI writing tools available in the market, it is clear that these tools have revolutionized the way we approach content creation. With their advanced algorithms and natural language processing capabilities, they are powerful allies for writers of all kinds – from bloggers to marketers to ebook authors. Whether you want to save time on research and writing or simply improve the quality of your content, AI writing tools offer a range of features and benefits that can help you achieve your goals.
In conclusion, the best AI writing tools are valuable additions to any writer's toolkit, but they should be used in conjunction with human creativity and critical thinking.