Over the past few years, there has been a growing interest among food businesses and entrepreneurs in creating high-quality food delivery apps. To accomplish this goal, it is crucial to partner with a reputable app development company. On a global scale, on-demand food delivery app solutions are projected to generate approximately 0.91 trillion US Dollars in revenue by 2023.
Define Your Business Model:
Decide on the business model for your food delivery app. You can choose to operate as an aggregator, connecting customers with various restaurants, or as a platform for a specific restaurant or chain. Determine if you will provide in-house delivery or partner with third-party delivery services.
Market Research:
Conduct thorough market research to understand the competitive landscape, target audience, and local preferences. Identify popular cuisines, delivery trends, and customer expectations in different regions of India. This research will help you tailor your app to meet the needs of your target market.
Identify Key Features:
Determine the essential features for your food delivery app like Zomato and Swiggy. These may include user registration and login, restaurant listing and menus, search and filter options, order placement and tracking, secure payment integration, ratings and reviews, customer support, and push notifications. Consider additional features like loyalty programs, discounts, or partnerships with popular restaurants.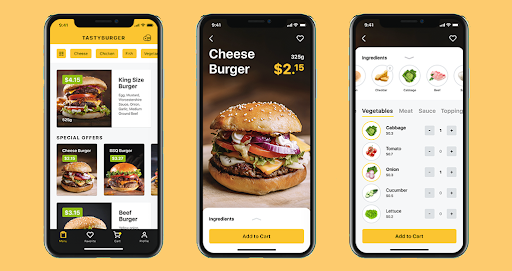 Hire a Development Team or Partner with a Technology Provider:
Decide whether to build your app in-house or partner with a technology provider. If you choose to build in-house, assemble a team of experienced mobile app developers, UI/UX designers, and backend developers. Alternatively, collaborate with a technology provider specializing in food delivery app development to expedite the process.
Design the User Interface (UI):
Make your app's user interface pleasant to the eye and simple to use. Focus on intuitive navigation, clear categorization of restaurants and cuisines, high-quality food images, and an easy-to-use ordering process. Design a logo and maintain consistent branding throughout the app.
Develop the App
Develop the front-end and back-end components of your app. For the front end, select a mobile app development framework such as React Native or Flutter, which allow for cross-platform compatibility. Develop a robust back-end using appropriate technologies like Node.js or Ruby on Rails. Implement necessary APIs for restaurant and menu management, payment processing, and order tracking.
Integrate Payment Gateways:
Integrate trustworthy payment channels to make transactions simple. Consider popular payment options in India, such as UPI, mobile wallets, and net banking, along with international payment methods like credit and debit cards.
Test and Launch:
Test your app carefully to find any bugs or issues with usability and repair them. Conduct alpha and beta testing with a group of users to gather feedback and make necessary improvements. Once satisfied with the testing phase, launch your app on popular app stores, such as Google Play Store and Apple App Store.
Marketing and Promotion:
Integrate trustworthy payment channels to make transactions simple. Utilize digital marketing channels, social media platforms, and partnerships with local restaurants to increase app visibility and attract users. Offer incentives, referral programs, or discounts to encourage initial downloads and user engagement.
Provide Ongoing Support and Updates:
Continue to support and improve your app post-launch. Address user feedback promptly, fix any bugs or issues, and release regular updates to enhance functionality and user experience. Stay updated with industry trends and customer preferences to stay competitive in the market.
By following these steps, you can develop a food delivery app that meets the needs of customers in India and provides a seamless ordering experience. Remember to comply with local regulations and maintain strong relationships with restaurant partners to ensure a successful and sustainable business.