Trying to remember all the login accounts password in this digital day and age we live is tiring and stressful. Not knowing the right password for multiple accounts is annoying to say the least, and the password recovery adds to the frustration.
Obviously an efficient and robust Password Manager is an ideal solution, one such is LogMeOnce Password Manager. Thus here we are providing you a comprehensive LogMeOnce Password Manager review.
What is LogMeOnce Password Manager?
LogMeOnce Password Manager helps you take care of all your passwords and personal credentials securely. LogMeOnce is powerful security software that not only provides password protection and also enables you to keep all your local as well as cloud data encrypted and secured. You get multiple login options with advanced features along with compatibility with all the platforms and devices.
Technical Specification
| | |
| --- | --- |
| Company | LogMeOnce Inc |
| Latest Version | 7.4.1 |
| Free Version | Yes |
| Supported Platforms | Windows, macOS, Android, iOS |
| Web Extensions Available | Edge, Firefox, Chrome, Safari, Opera |
| Tech Support | Email, Documentation, FAQs, and Video Tutorials |
LogMeOnce Key Features
LogMeOnce provides a plethora of features to help you manage passwords and personal credentials securely. It might come across as highly overwhelming to look at all the features, but we will cover all the useful features which are important to consider LogMeOnce.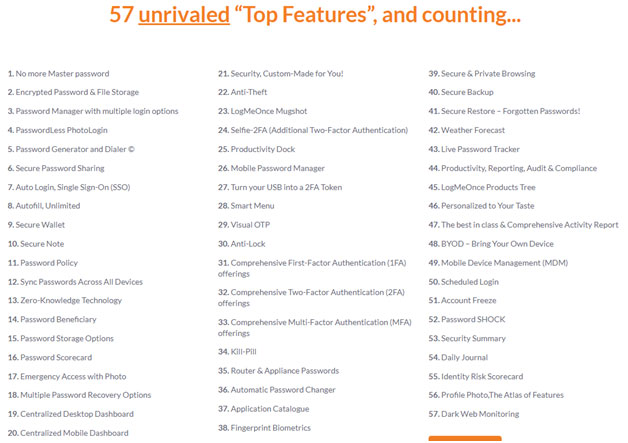 Multiple Login Options
LogMeOnce offers multiple login options for you to access stored passwords and personal credentials securely. You can pick any convenient login options, depending on the device you are currently accessing the app.
Cross Platform Compatible
It is cross-platform compatible supporting all the devices including Windows, Mac and Linux along with mobiles like Android and iOS.
Protect Local and Cloud Data
You can safely and securely keep all your personal data encrypted locally or over cloud as well. It lets you encrypt service for all major cloud storages like iCloud, Dropbox, Amazon etc.
Excellent Password Generator
Its excellent Password Generator can generate a strong password created using advanced algorithms to provide random and right length passwords to match all the password criterias.
Efficient Password Sharing
You can securely share your passwords with family members or anyone without any risk worries with LogMeOnce, it provides two options 'Closed Share' & 'Open Share' to pick from.
Advanced Security and Encryptions
LogMeOnce provides industry leading security and encryption features to keep your Passwords and Personal Credentials safely stored for you to access worry free.
Auto Login & Single Sign-On
For added convenience, LogMeOnce supports single click access to all your passwords on the dashboard. Its Single Sign-On option allows secure authentication for all third-party apps.
Multi-Factor Authentication Options
Not just First-Factor Authentication or Two-Factor Authentication, LogMeOnce also provides a Multi-Factor Authentication option for that added security measure.
Plethora Security & Storage Features
The feature list is extensive and it will be more than enough for individual security satisfaction but also for any small business requirements. Although most features come Free on Premium plan but some added convenience features are on paid version.
Pricing and Plans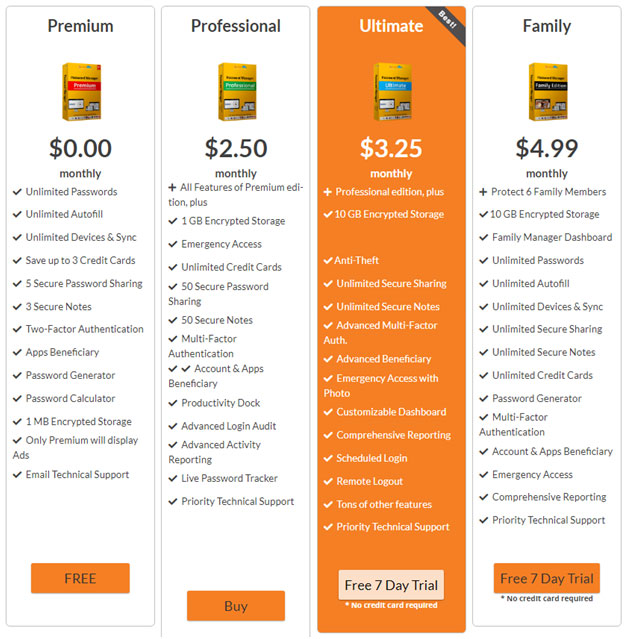 Lets talk about a pricing plan for LogMeOnce Password Manager. It offers both freeware and paid versions for all the needs and requirements. Although the Free Premium Plan comes with limitations on unlimited devices, for personal usage it is more than enough.
If you wanna try the full features of LogMeOnce before deciding on whether to purchase then it provides a 7-day trial of fully featured access also. In case your requirements are for full features then we would recommend getting Ultimate Plan with a trial period to suffice all needs.
LogMeOnce Password Manager Pros and Cons
Pros
---
Straightforward and easy-to-use interface
Supports all platforms and devices
Comprehensive security and encryption features
Supports cloud data protection options
Multiple ways to login options
Excellent Password Generator and Dialer
Highly secure password-sharing support
Provides Auto login and Single Sign-On
Good password storage options
Cons
---
Limitations with Free Premium plan
Yearly subscription based
Overwhelming features list
Installation and User Interface
LogMeOnce is cross-platform compatible and supports all the devices. You can get LogMeOnce password manager for Windows, Mac, and Linux for free and as well for mobile devices both Android and iOS. Below are easy steps to follow for installing it on both desktop and mobile devices of any platform.
LogMeOnce Password Manager Installation Steps for Windows, macOS & Linux
Step 1: Open your favorite browser on your desktop and navigate to LogMeOnce official website here and Click on 'Sign Up-It's free' orange button at the top and Select 'Personal / Family' Option from the dropdown menu.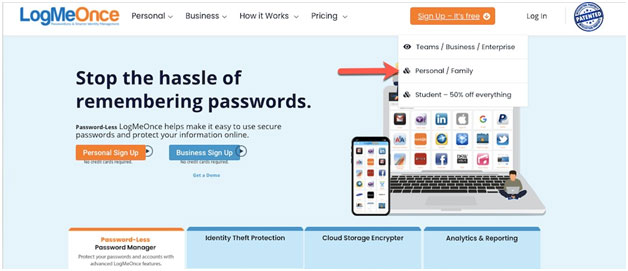 Step 2 : When the Signup page opens, provide your credentials and complete the account-creating process following the instructions shown. Then it will redirect you to the Pricing Plan page, select either Free Premium or any paid version to continue.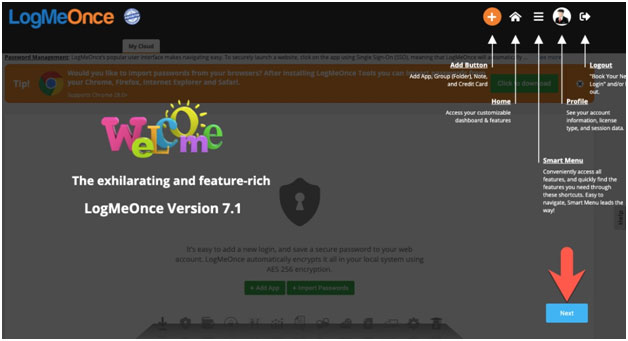 Step 3: Then, you will be directed to the dashboard of LogMeOnce, go through all the shown instructions before Clicking on the 'Next' blue button at the bottom. Continue to follow the on-screen instructions until you are finished with the installation process.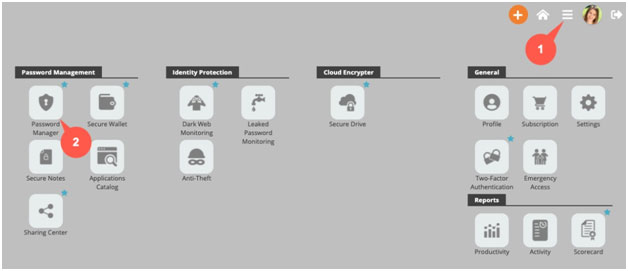 Step 4 : After done with all the signup and installation process, either you can add an individual app or import passwords option. This completes your installation process on desktop.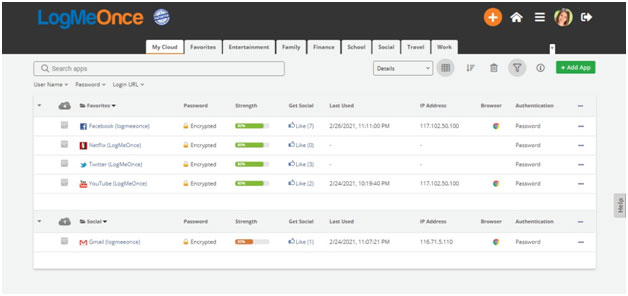 LogMeOnce Password Manager Installation Steps for Android
Step 1 : Launch Google Play Store on your Android Phone and search for LogMeOnce app from the search box.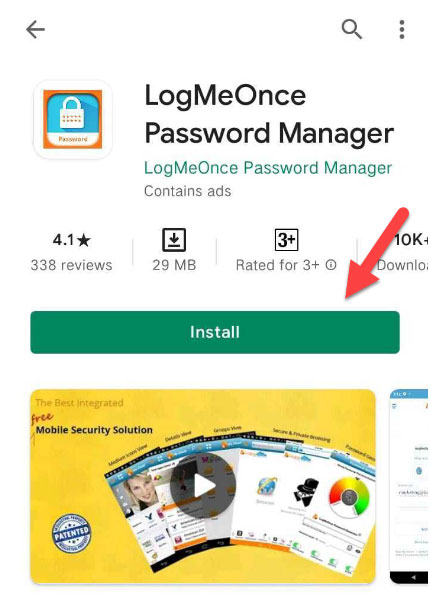 Step 2 : When the search is over, Click on 'Install' Button of the app. Wait till the app is installed and then Click on the 'Open' button.
Step 3 : Once the LogMeOnce app is launched, Go through app review and Click on 'Get Started' at the end. If you already have a LogMeOnce account then login or you can also Sign up for a new account following the on screen instructions.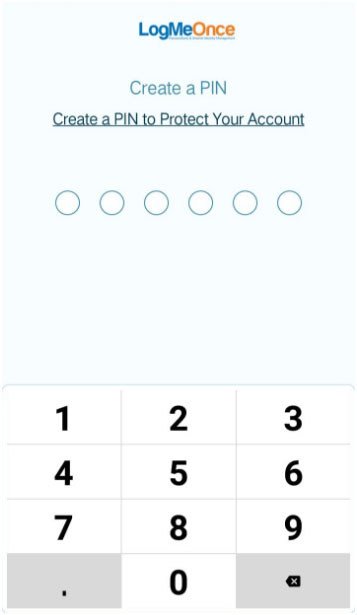 Step 4 : After providing your security PIN, you will be directed to the dashboard for adding any apps or import passwords.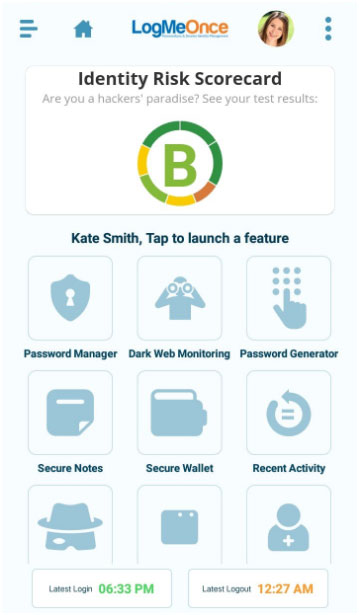 LogMeOnce Password Manager Installation Steps for iOS
Step 1 : Launch App Store app on your iPhone or iPad, search for LogMeOnce app from search tab on top.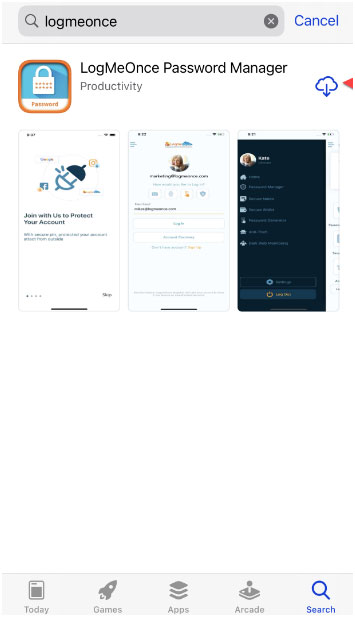 Step 2 : When search is over, Click on the 'Install' button at the right. Wait till the app is installed and then Click on the 'Open' button.
Step 3 : Once the LogMeOnce app is launched, when prompted Click on 'Allow' for notifications. And go through the app overview and Click on the 'Get Started' button at the end.
Step 4 : If you already have a LogMeOnce account then continue to login or you can create a new account from the Sign up option. Follow the onscreen instructions and Provide a security PIN to complete the process.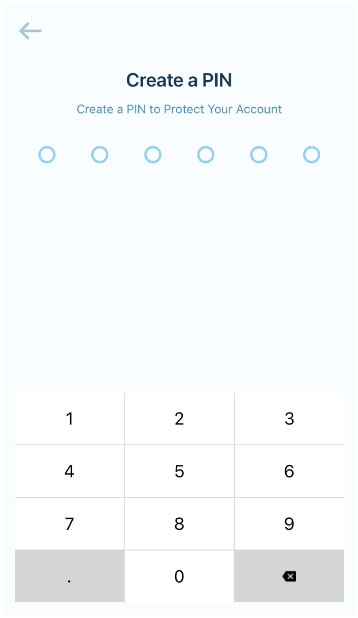 Step 5 : Finally you will be directed to the dashboard of the app, where you can add apps or import passwords.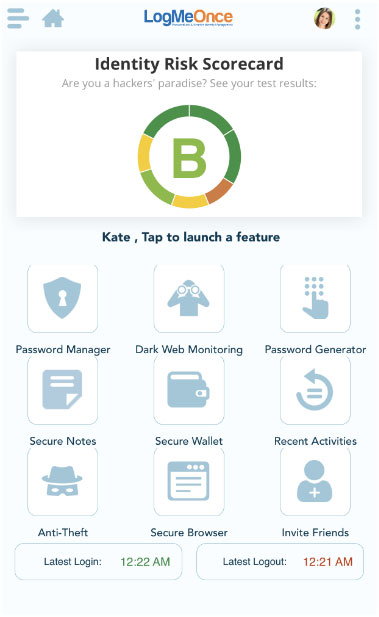 Frequently Asked Questions
Q1. How safe is LogMeOnce?
LogMeOnce is a secure password manager which supports industry leading standard security features, along with AES-256 encryption standard. Along with multiple factor authentication options including 2FA and other options.
Q2. Is LogMeOnce Password Manager free?
Yes, LogMeOnce Password Manager offers both Free Premium and Paid versions. Although Free Premium supports limited features for unlimited devices.
Author Veridic-
A robust and highly safe Password Manager is a need of the day in the digital age we live in, considering everything requires us to log in or provide passwords. LogMeOnce is among the best of all password managers, for its extensive list of features and highly industry-leading security features.
In our LogMeOnce Password Manager review, we found, Its Free Premium version is more than enough for any individual needs, but the paid Ultimate version provides even more features.