Forgot your account password while trying to remember all the passwords of your account and other login data. Yes as the world is moving towards being everything digital then soon all activities are gonna be digital including online banking, emails, social networking, workstations and many more.
A good solution is to get an excellent Password manager which is highly reliable and secure to keep all the crucial passwords just like Enpass Password Manager.Read through Enpass Password Manager comprehensive review to find out whether it is worth checking out or not.
What is Enpass Password Manager?
Enpass Password Manager is an Offline password manager which is cross platform compatible and supports all devices. It takes care of all your accounts passwords along with credit cards, licenses, passports and other important personal documents in vaults safely and securely.
So basically Enpass is an easy to use, simple and secure application to help you take care of your passwords and other personal credentials.
Technical Specification
Company
Enpass Technologies Inc.
Latest Version
6.8.2
Free Version
Yes, for all platforms
Operating Systems Supported
Windows (Windows 10 or later)
Mac OS (macOS 10.14 or later)
Linux (CentOS 8, Fedora 28 and Ubuntu 18.04 or later)
Android (Android 6.0 or later)
iOS (iOS 12.5 or later)
Web Extensions Available
Edge, Firefox, Chrome,Safari, Opera and Vivaldi
Tech Support
via Email, Documentation, FAQs and Tutorials
Key Features
Personal Unlimited Vaults
To begin with Enpass you need to create a personal Vault to store the password or various personal documents. It lets you create unlimited vaults for work, personal and family to separate everything in a well organized manner. Furthermore you can also categories and tag these vaults along with restricting the access to the only allowed.
One Master Password for All
With Enpass you just need to remember the master password which you provide for it, and all the rest is taken care of by its competent password manager by storing them securely.
Supports All Platforms and Devices
Great thing about Enpass is that it supports all platforms and devices including desktop applications and mobile apps. It is also cross platform compatible so you can utilize it on every platform and device. Along with extension support for all the major web browsers.
Offline Stores Data
All your passwords and data is stored locally on your system and not on Enpass servers, so it will not take any personal information of yours. Every password and data is stored on your devices completely encrypted for safety.
Autofill Passwords and Personal Information
You need not have to fill all the personal details and credentials by self, Enpass quickly autofills all the required passwords, logins, credit card and other information of yours in no time. No need to copy and paste each time when it's required.
Sync Through Personal Cloud Storage
Although Enpass is an office password manager which stores all the data locally on your system, it also offers a feature to sync everything to your personal cloud account such as Google Drive, Dropbox, iCloud and many more.
Strong Password Generator
The built-in Enpass password generator is a handy tool when you need an exceptionally strong password for login. It creates a unique password for each login account so that you don't need to come up.
Password Audit
This feature analyzes the data and identifies any weak or duplicate passwords, then offers you to change the password easily using password generator.
Multi-Factor & Keyfile Authentication
Enpass provides 2FA (Two-factor authentication) option for that added security you need for your account login. You can also utilize the device biometric authentication in case it is available with Enpass. It also supports TOTP authentication from Enpass itself to avoid other apps. You can also add that extra level of authentication by using the Keyfile feature of Enpass.
High Customisation Options
It allows you to customize Enpass with categories, templates and items according to your preferences.
Pricing & Plans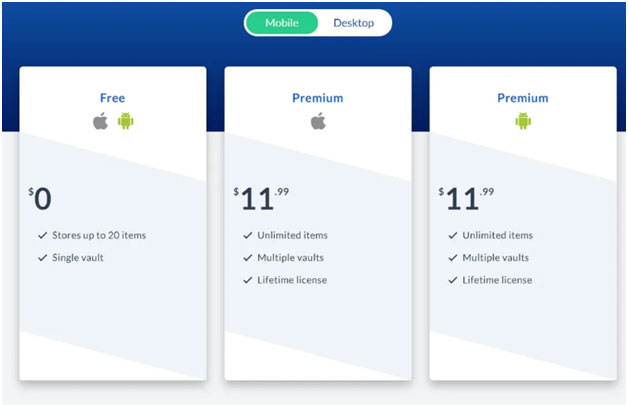 Enpass Password Manager comes as completely free desktop applications for Windows, Mac OS and Linux and a limited free version for mobile apps. Their desktop apps are absolutely free with no limitation for features, you get unlimited local password storage, unlimited vaults, unlimited devices, security alerts for website breaches, 2FA authentication and email support.
However, the free mobile app is limited to 20 password storage and single vault, which can be upgraded to the Premium version for unlimited password storage, unlimited vaults and many more at $11.99 for lifetime license.
Enpass Password Manager Pros and Cons
Pros
---
Absolutely Free desktop applications
Doesn't store password or data at all, Offline
Good encryption security features
Secure vault organization options
Auto security alerts for website breaches
Sync options with other cloud storage
Supports all browsers for extensions
Cons
---
Only desktop apps are free
Less multi-factor authentications
Limited sharing options
Offline stores the passwords
User Interface & Features
Enpass provides free desktop applications for Windows, Mac OS & Linux and also mobile applications for Android and iOS along with Browser extensions for all the major browsers.
For the most part the user interface & features are very similar to each other but the only difference is with the installation file and procedure. You can visit Enpass Password Manager official website to download on your system or device by selecting the right option.
For Windows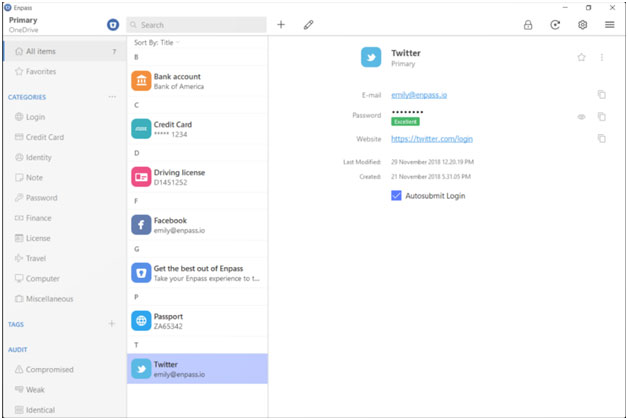 You can download Enpass on your Windows system either from its official website or you can also get it from Microsoft Store for free. After installation and launching the Enpass app you can simply set up your account and provide one master password. Then start adding items along with creating unlimited vaults to store your password and other credentials.
For Mac OS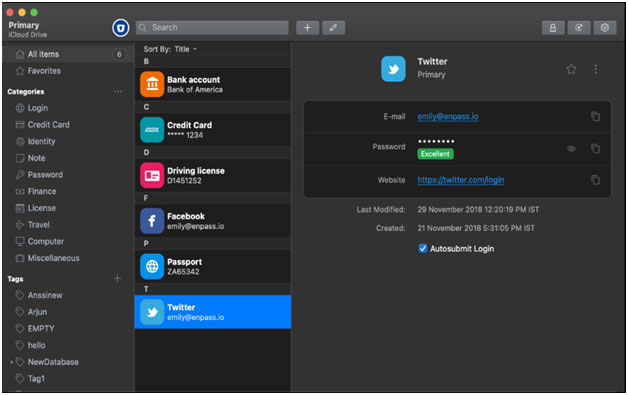 For your Mac system you can download Enpass from its official website and also from the Mac App Store also. The installation is very straightforward just like any app installation and when you launch the app, create an account and provide a master password to add, edit and delete items, then create as many vaults you prefer to store your passwords and credentials.
For Linux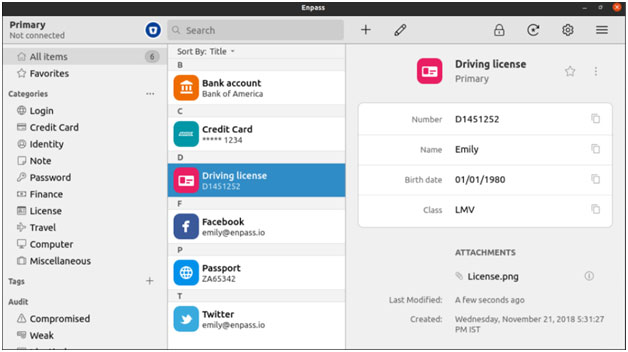 For your Linux you have to download Enpass from its official website and install. When you launch the app, you have to create an account with a master password. Then start adding, editing and deleting items along with vaults to store passwords and credentials.
For Android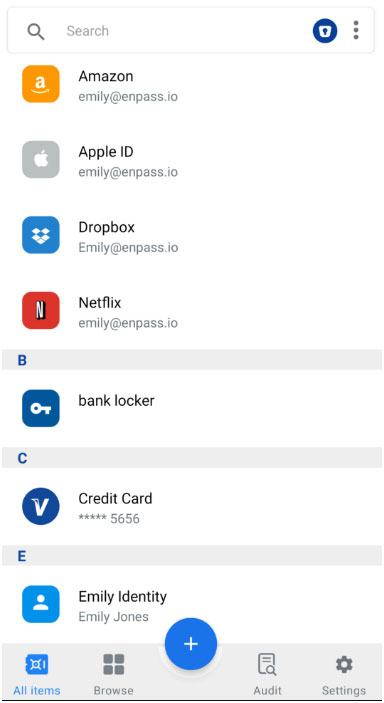 You can get Enpass on your Android device from Play Store and follow the installation instructions. Then later start creating , editing and deleting items along with unlimited vaults.
For iOS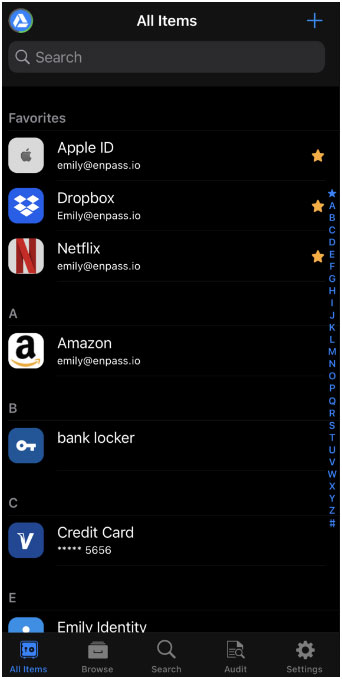 To install Enpass on your iOS device, you can download and install from the App Store for iPhone, iPad and Apple Watch. Follow the on screen instruction for installation, and open the app to add, edit and delete items you want with creating vaults.
Frequently Asked Questions
Q1. Is Enpass Password Manager free?
Yes, Enpass Password Manager is absolutely free for desktop versions such as Windows, Mac OS and Linux, including free extensions for all major browsers. But for mobile apps only a free trial version is available.
Q2. Where does Enpass store passwords?
Enpass Password Manager works offline, i.e it stores all passwords and data locally on your Systems. It also provides the option to Sync with your personal third party cloud account like Google Drive, Dropbox, iCloud etc.
Q3. Is Enpass open source?
No, Enpass is not an open source software. Although it provides free desktop versions, it is not open source.
Conclusion –
After putting through various factors and variables to review Enpass Password Manager, we conclude that it's a decent tool to consider especially since it provides free desktop applications for all platforms without any features limitations. And yes mobile apps of Enpass come with limited free trial and you need to purchase for full features.
Although few convenience features are missing from Enpass Password like limited to local storage and few multi factor authentication options, it is still a great option to consider as password manager compared to others.