We all are aware of the benefits of doing yoga. The major benefit of doing yoga every day is that it can help us improve our mental and physical well-being. The other fact that always amazes me is that yoga can be performed anywhere and anytime, it's just you have to keep your eating and sleeping cycle in mind before doing that.
Prior, performing yoga was a big task as we required the support of a guide, mentor, or professional. Now, it's easy! With the advancement in technology, now we can do yoga with the virtual appearance of a guide or mentor.
Also Read: Fabulous App Review: Daily Planner & Self-Care Habit Tracker
There are various YouTube channels, websites, and apps that help us in performing yoga every day and build good habits.
In this blog, we will be exploring the 10 best yoga apps that can be used from anywhere and are really effective. So, let's get started.
10 Best Yoga Apps Of All Time
1. YogaWorks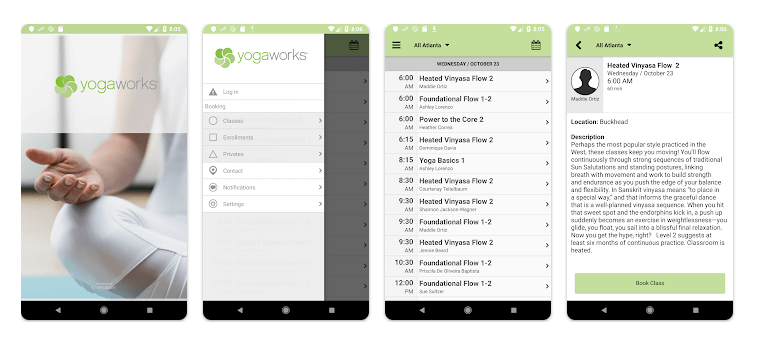 YogaWorks is an excellent choice when you desire that full live-class vibe. It is one of the best classes to unfurl your yoga mat in your living room. YogaWorks provides different classes with different modules.
Users can select the classes according to their availability, time preferences, and more. This is one of the best apps to learn various yoga styles and upgrade your level of performing yoga. This app offers +1000 on-demand classes as well, therefore, download it right now and enroll.
2. The Underbelly App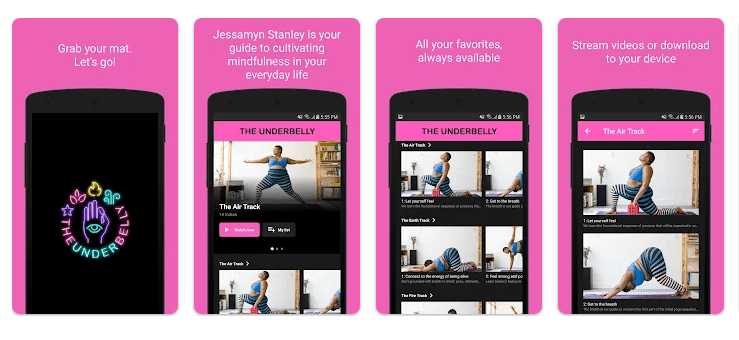 The Underbelly App belongs to Jessamyn Stanley who is a yoga teacher and self-columnist. This app offers various accessible and inclusive yoga classes that specially focus on breath work to important postures.
Users can also learn various grounding sequences for fast improvement. It can be a proven home for people who are looking for improvement, mental stability, and flexibility through wellness programs. Additionally, for enrolment in new classes, you can connect with this app on Monday especially.
3. Yoga for Everyone with Dianne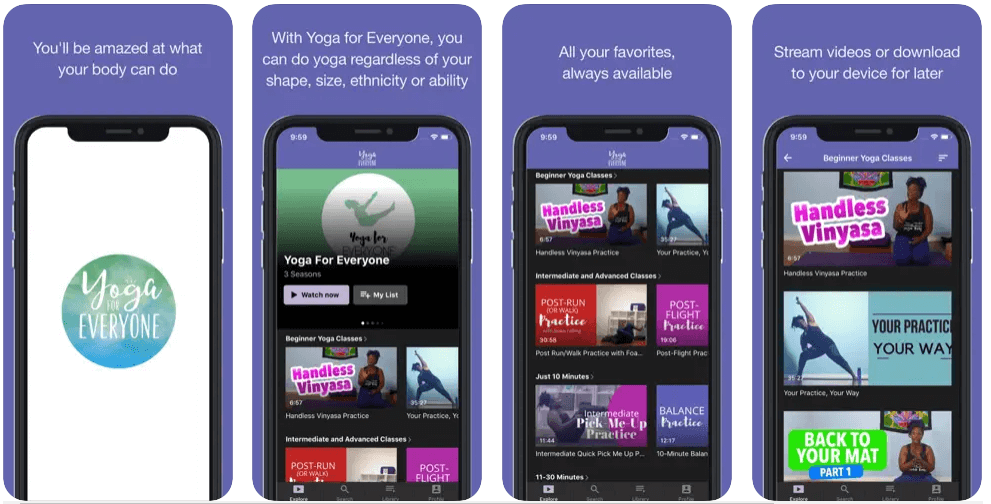 Yoga for Everyone with Dianne is one of my favorite platforms related to wellness because it promotes body positivity and it is one the most accessible yoga platforms I have ever used. It belongs to famous yoga instructor Dianne Bondy.
She created this app to provide an inclusive approach for people who are striving to make yoga an everyday practice. This platform is open to everyone regardless of their size, shape, ability, and more. The yoga tips shared through the sessions are very effective for overall wellness.

4. Alo Moves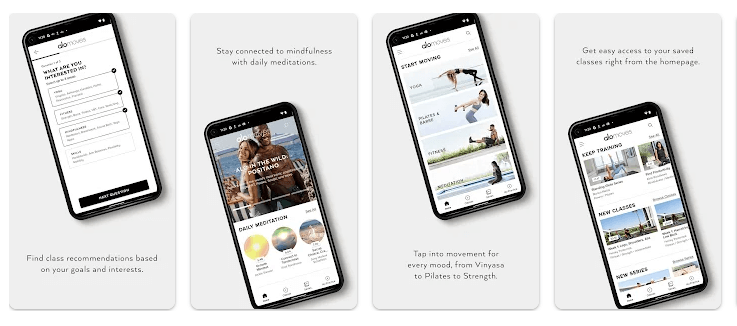 Alo Moves belong to the Famous apparel brand named Alo Yoga. This app has over 2500 videos on yoga classes from experienced instructors like Ashley Galvin, Briohny Smith, Dylan Werner, and more.
This app can be used by all age groups as it covers beginners to advanced-level yoga poses. Additionally, this app has covered +20 different styles of yoga which helps in the overall improvement of overall health. Users can also use the two-week trial phase.

5. Asana Rebel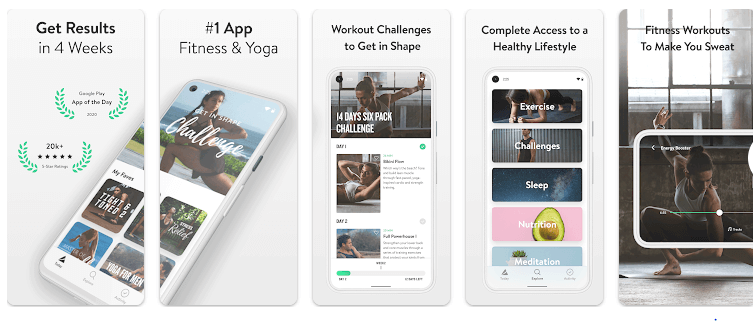 Asana Rebel is one of the famous and rated apps that is especially a yoga-fitness app. this app offers +1000 yoga exercises by fitness and yoga experts. The content provided by this app is incredible as it covers all the genres like beginner level, advanced level, strengthening, and more.
The best part about this app is that it provides a calming playlist that helps promote healthy and deep sleep. It is also priced at a pocket-friendly price therefore; users can download it without giving it a second thought.
6. YogaGlo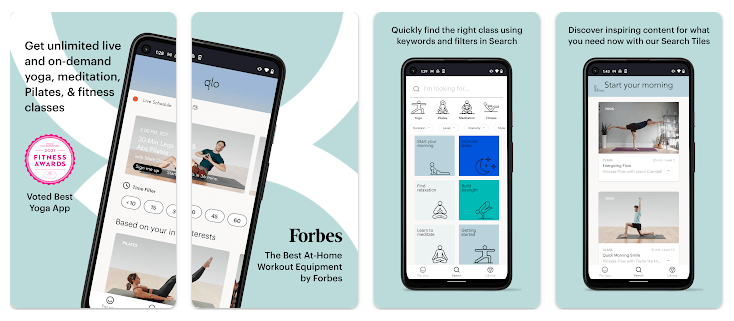 YogaGlo is one of the easiest apps that you can use from anywhere. It only takes 30 minutes to an hour to reach the flow. It is one of the best apps to build yoga as an everyday habit. Moreover, it also provides live classes that are demanded by +5000 users from all around the world.
This app provides yoga in 16 different categories which is suitable for improving mental health, strengthening physical health, developing confidence, and more.

7. Find What Feels Good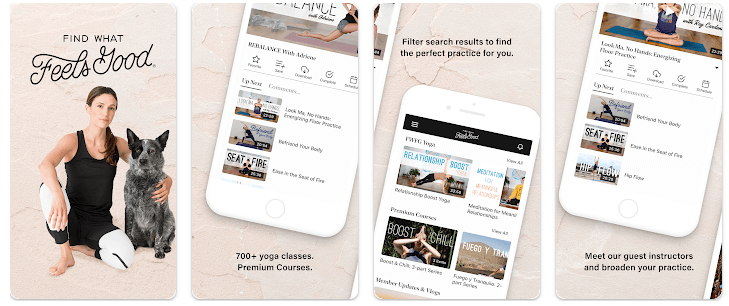 Find What Feels Good is owned by a famous Yoga Instructor on YouTube Channel named Yoga with Adriene. If you are not able to access the channel on an everyday basis, you can download the app that provides direct and easy access to +100 videos related to yoga.
Users can also connect to their exclusive or premium classes which are amazing and effective. This app is available on both platforms and it is very helpful in achieving the flow.

8. Apple Fitness+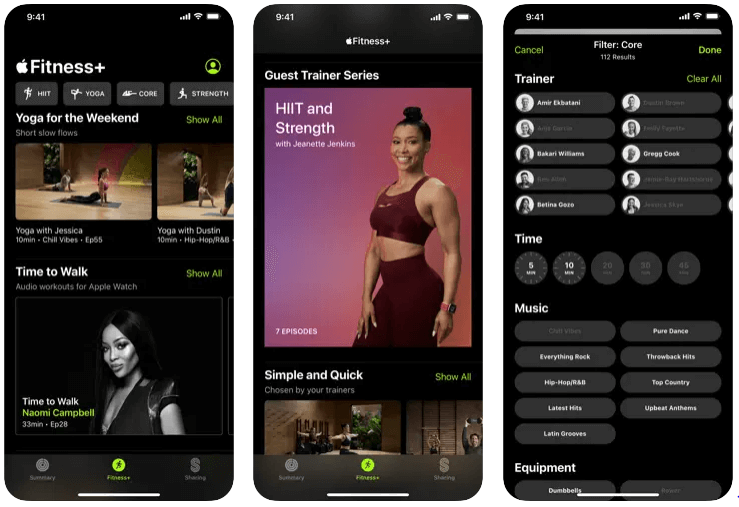 Apple Fitness+ is provided through iOS platforms which can also be connected by the Apple Watch. Apple Fitness+ is an amazing and effective app that I have been using from a while. it included various experts from all around the world.
The best part is that users can also connect with the instructors through their social media platforms. The other best part is that users can filter their classes according to their flow style, type, length, and more.

9. Yoga Wake Up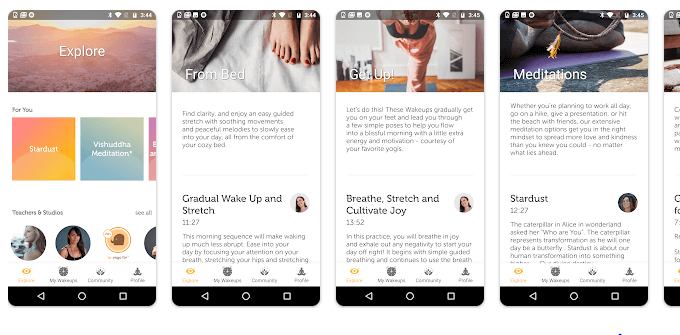 Yoga Wake Up makes your improvement and recovery journey easy. It is a wellness app that is available on both platforms. All classes are beginner-friendly which means the whole family can join it and get ahead on the journey of improvement.
It also offers some best meditation practices which work like cherry on the cake. The best part about this app is that the experts and instructors belong to various ethnicities and backgrounds. This creates a really welcoming vibe.
10. Yoga International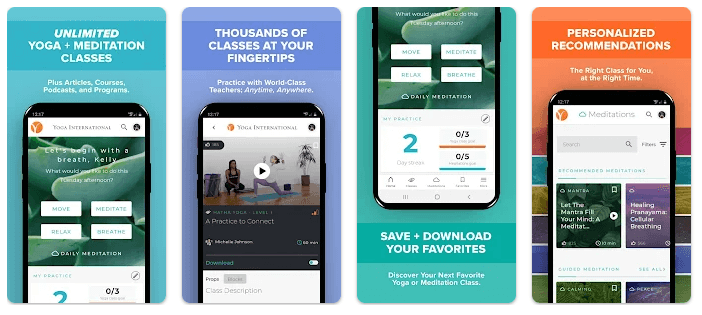 Yoga International is an app that is also recognized as the "world's most diverse yoga site." This app offers more than 1000 videos related to yoga. Additionally, users can take support from +500 teachers and experts. live classes and sessions are4 also available.
This app provides content in English and Spanish language. You can also use the 30-day trial period.

Final Words:
I hope this blog helps you with the 10 best and most effective yoga apps that can be used from anywhere.
Thanks for reading!
Next Read:
10 Best Gratitude Apps For You to Try Right in 2022