Your PC is constantly crashing or having multiple problems that you are unaware of. It is an ever-occurring phenomenon of a series of issues with PC and eventually, you have to find the solutions for it.
Look no further than getting an all-in-one repair tool like Restoro to the rescue from multiple problems you are facing with your PC.
In this blog, We have provided a comprehensive review of Restoro PC repair tool and what This tool fixes.
Let's take an overview of restore tool.
What is Restoro?

Restoro is a complete windows PC repair and optimization software that scans and diagnoses various PC issues then repairs your damaged PC and also reverses the damage already done with full restoration of missing files.
Restoro helps protect and remove malware and viruses from your PC, repair & restore all the corrupt missing windows system files to optimize PC performance, and constantly keep looking out for any threats affecting your PC. Even better yet it does all these automatically without your intervention.
Technical Specification –
Company – Restoro® Latest Version – 2.1.0.0
Free Version – Yes, Free Trial Version
System requirements –
OS – Windows 10, 8.1, 8, 7, Vista, XP
Processor – Intel Pentium 800 MHz or higher
Hard drive – 10 MB
Memory – 512 MB File Size – 911 KB
Tech Support – via Email, FAQs, and web support.
Plans & Pricing –
Restoro offers a 24 hr free trial version for windows with limited functionality for scan and detecting issues/errors on your PC but no repair or restore options.
To repair and restore issues or errors found on your PC you need to upgrade to paid versions, Restoro offers three paid PC repair plan versions which are Basic, Premium, and Extended.
Basic – $29.95 – Only one-time use license.
Premium – $39.95 – One license and unlimited use for one year.
Extended – $59.95 – Three licenses and unlimited use for one year.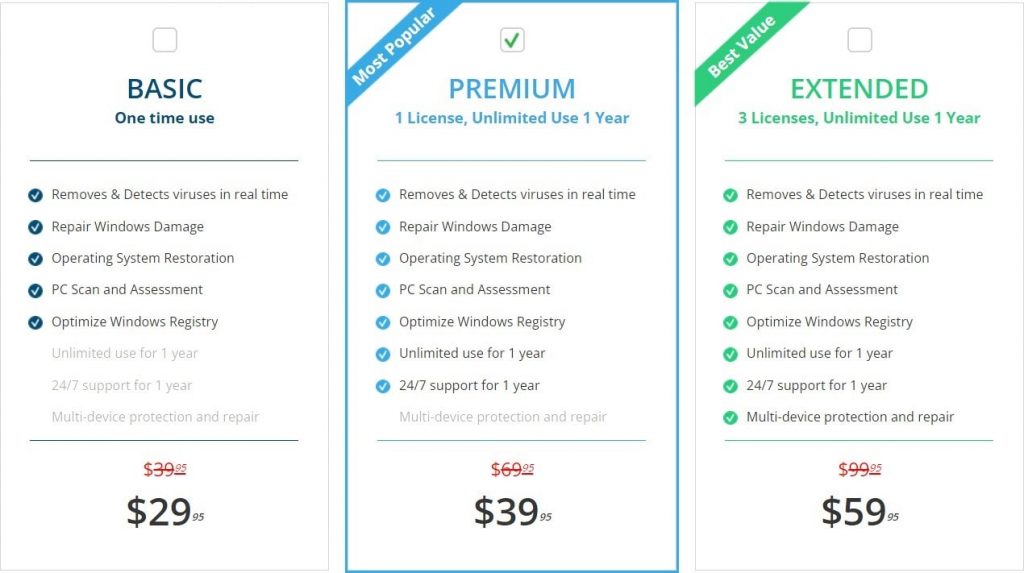 Why Choose Restoro Over any other Optimization Tool?
There are various things that can go wrong with a PC, mainly system crashes, corrupt system files, and many more.
Restoro starts by scanning your PC and detecting all the errors or issues with windows, to begin with, then it repairs all the issues either by removing damaged files or replacing them.
Key Features –
Clean & Intuitive user interface.
Compatible with all windows versions.
Easy to use scan, repair, and restore tool for PC.
Protection from malware and virus threats.
Repairs corrupt windows system files
Free up disk space.
Keeps PC performance optimized.
Following are the various PC issues that Restoro can detect and fix :
1. Windows System Errors –
One of the most common issues with PCs is related to errors in windows causing it to freeze and crash consistently. This might happen due to corrupt system files, damage from malware, or wrong windows updates.
Restoro can fix all these issues by repairing them or replacing the damaged files from its extensive over 25,000,000 files online database.
2. Blue Screen of Death Issue
Another most dreaded issue with PCs is the Blue Screen of Death (BSoD) or commonly known as the Stop error screen caused mainly due to fatal system crash or system OS critical error. It's mostly of a non-recoverable state of OS nature where critical system files are damaged beyond repair, then Restoro can fix it by replacing the files entirely.
3. Damaged DLLs
Malfunction of the applications and programs on PC are mostly due to damaged DLLs (Dynamic Link Library) files. When constantly installing and uninstalling programs on windows would replace older DLLs with the newer versions, which results in corrupting the files where the required older version is not available anymore.
4. PC Freezing
PCs tend to freeze or hang when the system or any program running becomes unresponsive to various inputs, this mainly happens due to programs becoming static or missing files are not available. Usually, you have to reboot or reset the PC to recover from System freezing.
5. Malware and Virus Damages
Just removing the malware or virus from your PC after detecting it with anti-virus does not mean all the issues caused to the system are taken care of. Most often even after removing the malware or virus from the PC, the damage caused by them is not repaired by anti-virus programs.
6. OS Recovery
System crashes or freeze are most often related to Windows corrupt files and then the only option available is for Operating system recovery. Restoro helps to repair and replace all the critical windows system files without affecting any user data, a very efficient os recovery process. It also helps to restore all the damaged system settings and registry values to the Microsoft default settings.
Although Restoro takes care of most issues with PCs, there are some issues that can not be fixed by Restoro such as issues with third-party installed programs, not AntiVirus software to protect or repair antivirus programs, and can not resolve issues related to hardware but will only detect issues.
Features of Restoro : How Restoro works?
1. Hardware Scanning
Restoro performs extensive scans on all aspects of your PC to diagnose and detect all the possible issues with windows to repair and also reverse the damage being already caused by replacing files from online databases efficiently. It performs scans for 3 main categories of the PC as Hardware, Security, and Stability.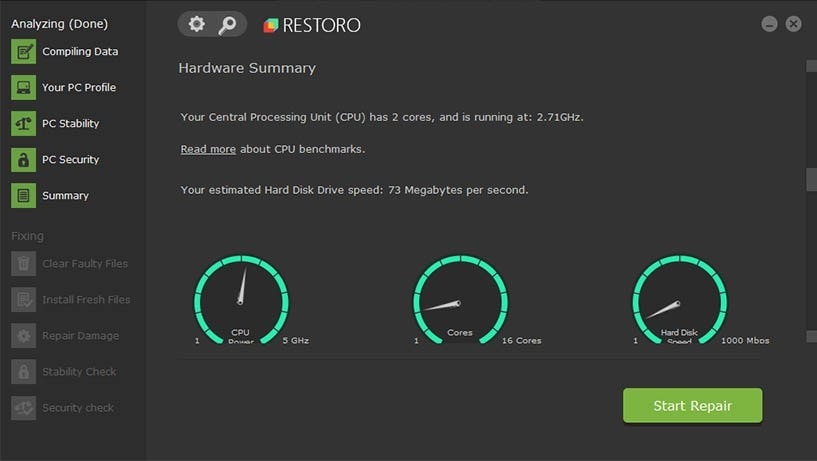 It checks for low memory, hard disk speed, CPU power, and temperature to improve the PC's performance by optimizing all these.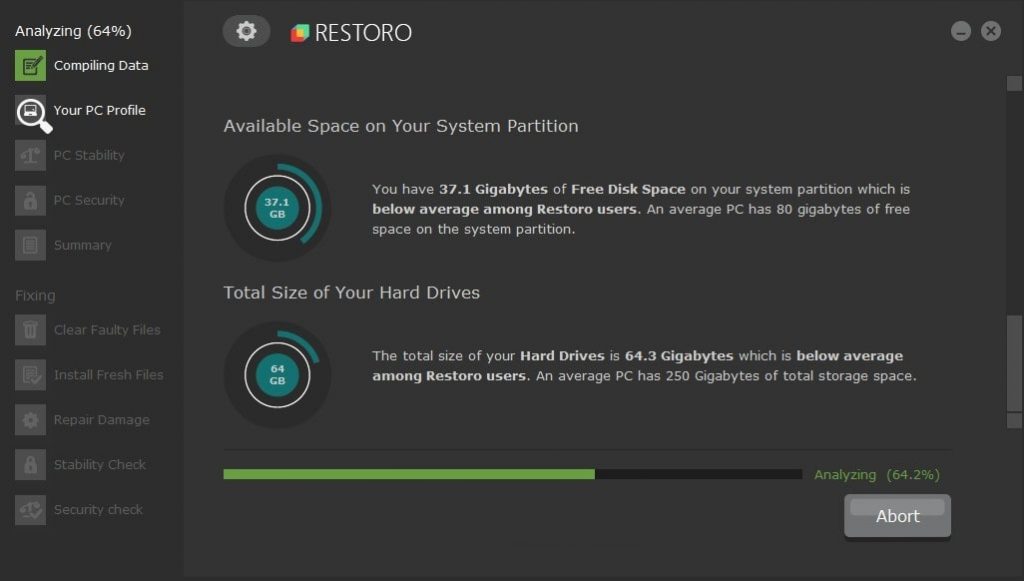 Security – Checks for any malware, viruses, adware, and many more to detect and remove them along with fixing any damage caused by them.
Stability – Looks for all the possible programs or applications which crash often and issues with them to fix.
2. Malware Removal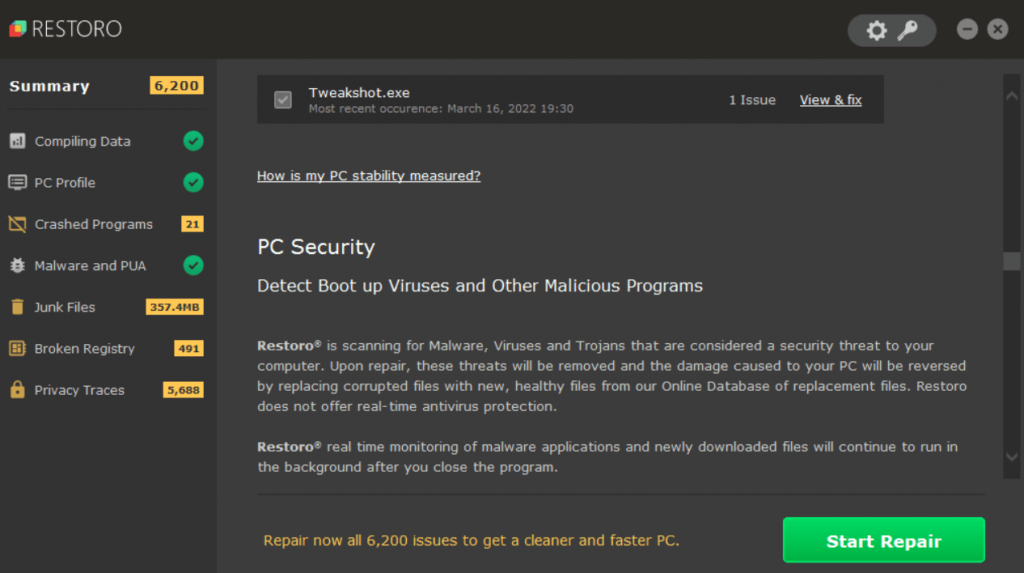 Restoro identifies all the issues individually and tries to fix them by repairing or replacing the damaged or missing files. Firstly it will deactivate and remove all the malware detected then fix the damages caused.
3. Crashed Programs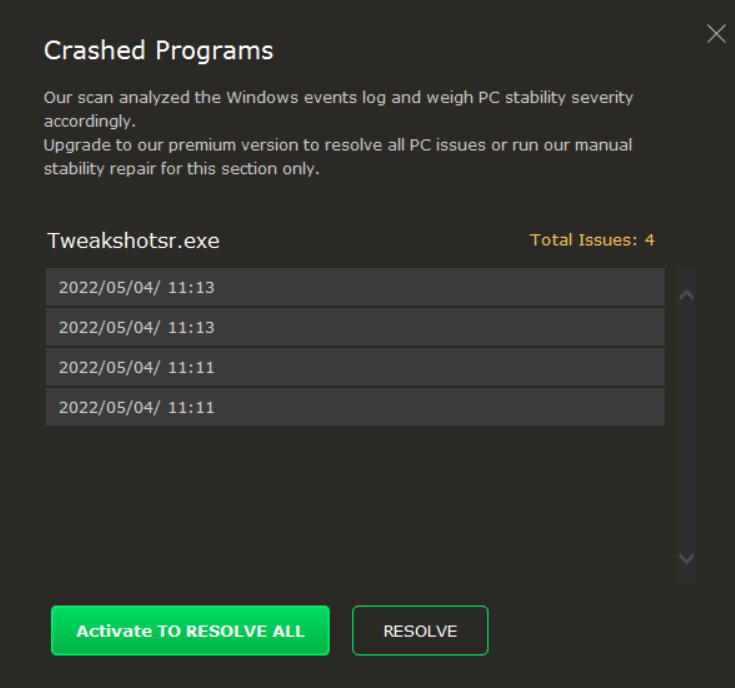 Another amazing feature of restoro preparing tool is crashed program. This tool provides real-time protection against al the programs files that are causing multiple issues to your pc. If you want to know the real cause or at which instance the app might have crashed.
4. Junk Files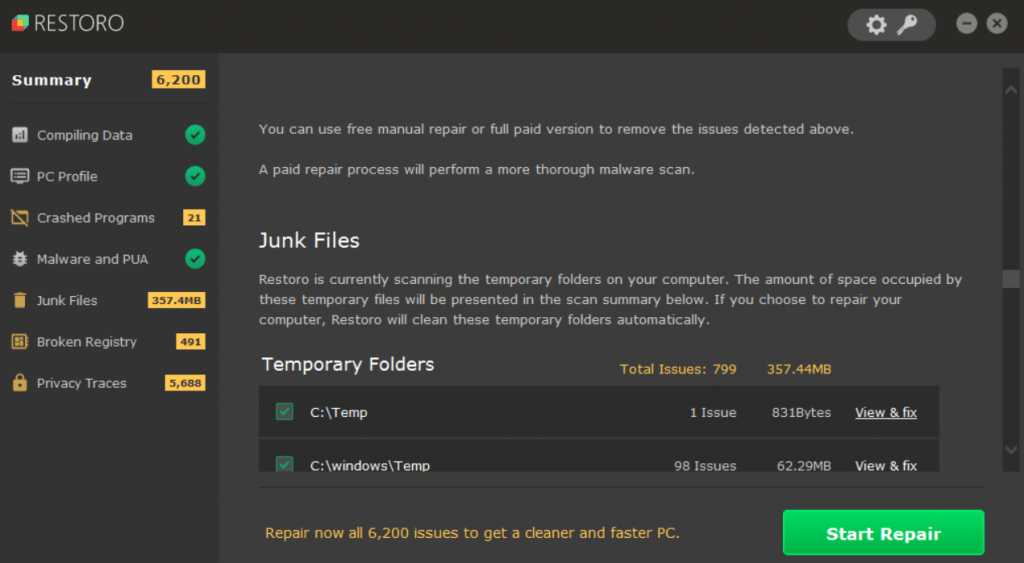 Another feature of restoro tool is Junk Cleaner. This tool is able to indetify all the junk and temp files and how you much space you can free up to improve your pc performance. Click on Start repair button and you are good to go for cleaning unnecessary files.
5. Broken registry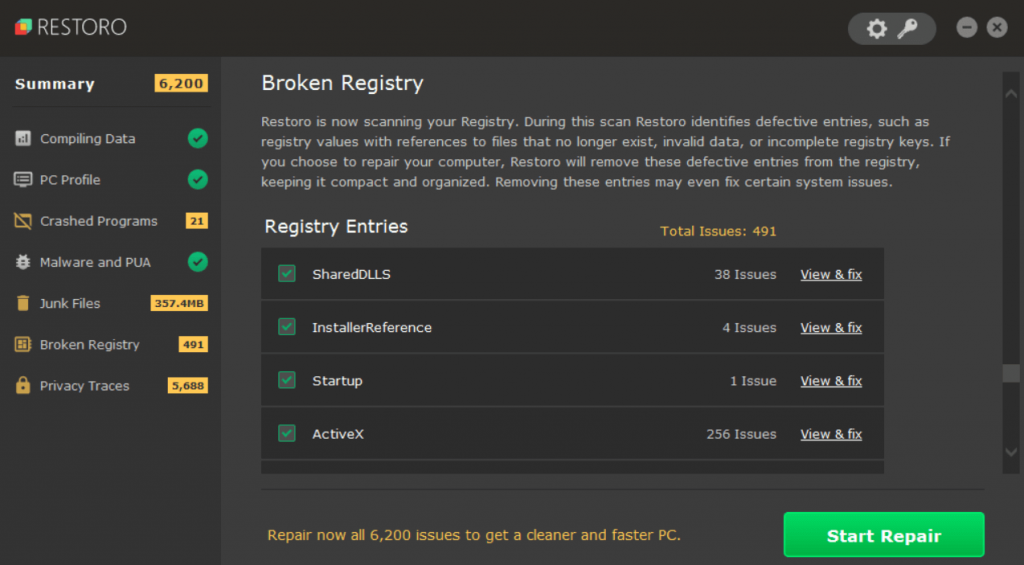 In case all the system files, DLLs, and Registry Keys are corrupted or damaged then it will replace them all with new files from the continuously updated online database. Restoro makes sure to fix all the issues detected on scanning either by repairing or reversing the damage, to improve the PC's performance, stability, and security.
6. Privacy Traces generated by Browser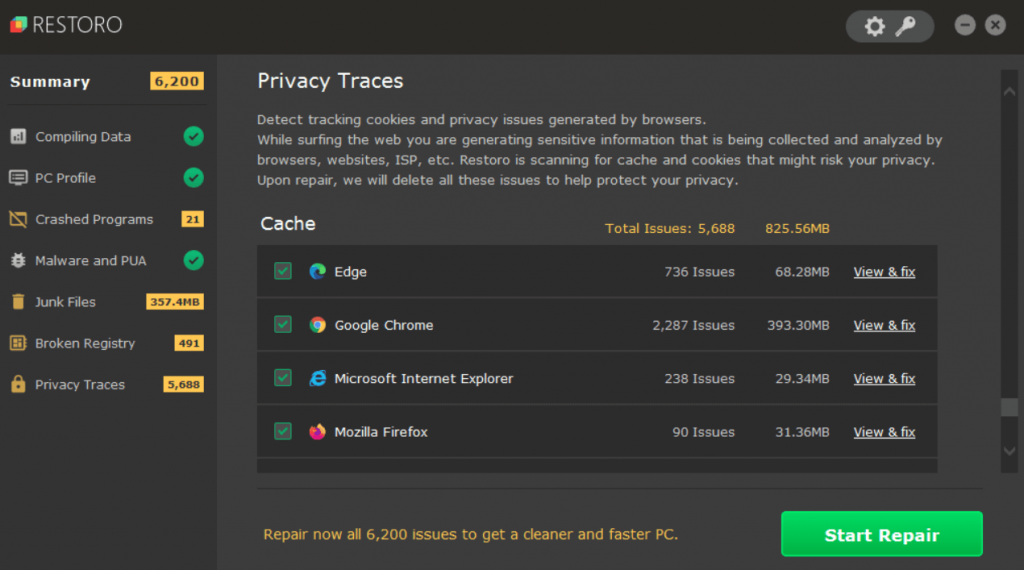 Restoro detects all the cookies and privacy issues that generates while you are surfing multiple websites. Restoro scans all the data that can cause privacy issues and delete all this data so that intruders wont harm your device.
Restoro Pros & Cons –
Pros –
Clean and simple user interface.
Efficient to detect malware and remove it.
Can fix damaged systems files.
Fully automatic to restore and fix PC.
Restores your PC to max performance.
Restore precious disk space.
Replace and restore corrupt DLL files.
Gives you details about hardware components that needs to be fixed.
Cons –
Free version is limited to only scan and available for only 24 hr.
No fix or repair option with the free version.
Sparse customizable options.
does not offer real time antivirus protection.
Customer support is also not up to the mark.
Final Verdict-
We highly recommend Restoro to keep your PC performing at the optimum and safely. It has plenty of features to aid you to improve Windows PC security and safety. Restoro also helps in detecting malware or viruses to remove them and repair after.
Although its free version can only scan for issues or errors on your PC, you need to upgrade to the paid version to repair it. It is worth the value to spend on this Windows PC system optimizer.
Frequently asked questions –
Q1. Is Restoro safe and legit?
Yes, Restoro is highly safe and legit PC optimization software which is also accredited by Microsoft for usage on Windows.
Q2. Does Restoro fix corrupted files?
Yes, Restoro helps you fix corrupted files on your PC by replacing them with healthy files from its database.
Q3. Can I use Restoro for free?
Although Restoro does offer a free trial version that can only perform scans and detect issues with your PC. But to performs repair and restores you need to upgrade to a paid version with various affordable plans.
References:
https://www.trustpilot.com/review/restoro.com
https://answers.microsoft.com/en-us/windows/forum/all/is-restoro-a-safe-website/33a40afd-74ed-4e9d-b57e-201e65cda0ad
https://www.techradar.com/reviews/restoro