Keeping your PC running at optimum performance is a task to reckon with which requires consistent attention to various parameters to be taken care of such as disk management, security features, processing care, managing memory, application optimization, and many more.
Norton Utilities Premium is one of the best tools which comes to mind to solve PC issues. It helps you improve your PC performance by doing all the above optimization with a single click.
Read on to find out if it is worth getting Norton Utilities Premium to improve your PC performance in our Norton Utilities Premium review.
Introduction to Norton Utilities Premium

Norton Utilities Premium is an all-in-one PC optimization software that helps improve PC performance and maintains your system at its optimum best. Its extensive features list constantly monitors for real-time issues or errors on your PC to resolve and speed up the PC.
The application helps you remove system junk files securely, clear startup items, fixes registry issues, clean disk space, repair common issues pertaining to windows to slow down the system, aid in personal privacy, and many more.
Technical Specification
Company – NortonLifeLock Inc.
Latest Version – 22.22.3.9
Free Version – Not Available
System Requirements

Operating System – Windows 11, 10, 8/8.1, 7 
CPU – 1 GHz
Hard drive – 100 MB disk space
Memory – 1 GB for 32 bit, 2 GB for 64 bit

File Size – 100 MB 
Tech Support – via Email, Live Chat, Documentation, Help Center, FAQs and Tutorials.
Proper Internet Connection for activation and to get updates
Pricing & Plans
Norton Utilities Premium can only be installed after punching a plan at $39.99 / year, to boost up to 10 PCs, It Means You can Use the same software for 10 devices.
There is no free trial version of Norton Utilities for evaluation before making the purchase but we feel it is worth the price for the great job it does optimize your PC.
For Some users, it can be expensive but if we compare the Norton utility pricing to another competitor you will find they have provided the features too according to pricing plus they are providing 60 days of money-back guarantee. so it's a win-win situation.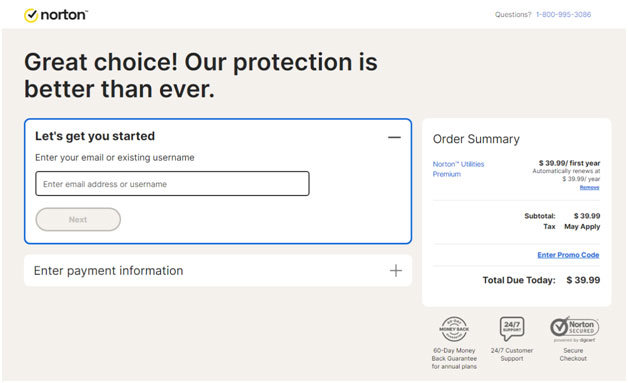 Norton Features: User Interface & Tools
Norton User Interface is easy to use interface that is straightforward to navigate around for specific tasks you want to perform on your PC or simply click on the optimization tool to run the task on your PC.
The main window of the Norton Utilities Premium displays four main left sidebar menu such as Dashboard, Toolbox, Automatic Care, and Real-Time Boost, these sidebar tabs furthermore contains server sub-PC optimization tools.
Below are the details of these optimization tools in detail and their features.
1. Dashboard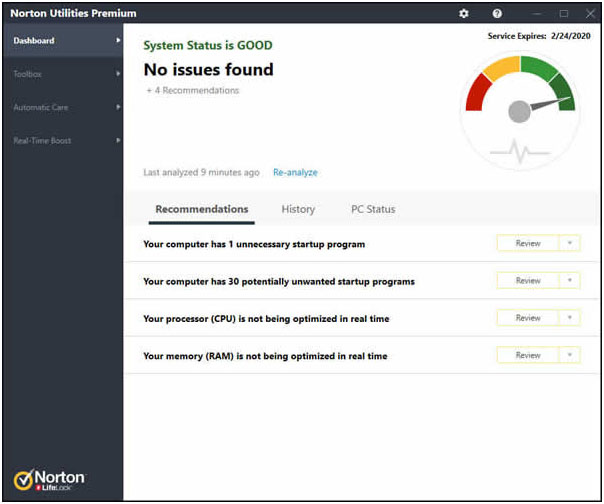 The dashboard section tab displays the complete summary of the previous system analysis scan you had performed on the PC. You can run the analysis again by Clicking on the Re-analyse button. Here you will be presented with three tabs Recommendations, History and PC Status.
Under each tab you will find the specific errors or issues with your PC and the option to review and resolve the same. After each PC scan and analysis the Dashboard is refreshed to display the current summary of the result and shows the issues pertaining to specificity of the PC for you to review.
2. Toolbox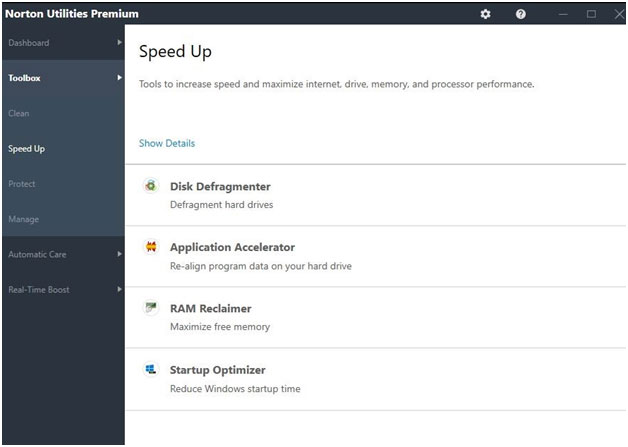 Under the Toolbox section, it is further subdivided into Clean, Speedup, Protect and Manage tabs, where you would find various section-specific optimization or cleaning tools for your PC.
Each sub-tab under Toolbox helps you repair and optimize PCs. You Will Find
Disk Cleanup:  Scan all your Hardrives and give an you alert about any hardware issue.
Registry Cleaner: This option will help you to remove unnecessary windows registries that can cause multiple system issues.
Advanced Uninstaller: This Option Will Help you to remove unwanted applications or software on your PC.
Windows Cleanup: This option will help you clean temp files, junk files, recycle bin files, broken shortcuts, etc.
Clear Browsing History: This will help you to clear your browser cache, cookies, and other browser-related data.
Bleach Disks: This option will help you to clean the hard disk data permanently.
File Shredder: Delete all the Confidential files items so that no one can recover them later.
Disk Defragmenter – This option will let you defrag hardisk if available.
Application Accelerator – This option will help you improve system speed by re arranging programs & defragment files on the hard disk.
RAM Reclaimer – Allows you to Optimize RAM & use that for crucial resources to enhance overall speed and stability.
Startup Optimizer – Enable or disable startup items to improve the overall Computer boot time.
Recover Lost Files – Helps you to find and recover lost graphics, videos, audio , and other media files.
Find Duplicate Files – Helps you dentify and delete Duplicate photos, videos, music files, documents, and other data.
3. Automatic Care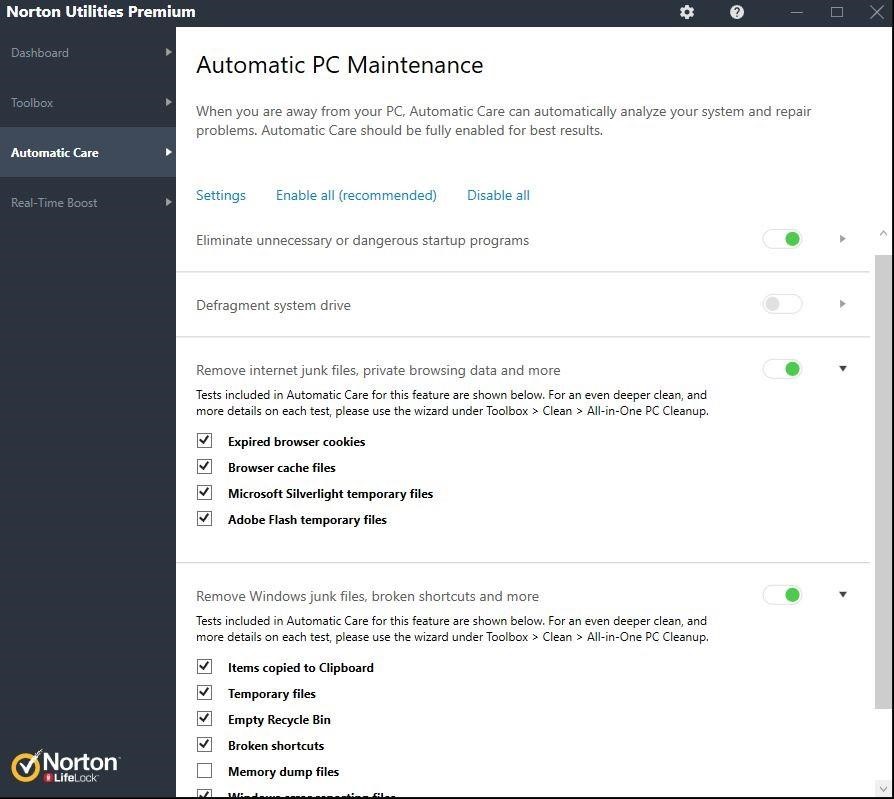 Under this section, you can enable automatic maintenance of your PC. It provides various options for you to enable by checking the box so it can keep monitoring all these aspects of your PC and try to resolve the issues when found automatically without your intervention.
By automating the cleaning and optimization process you are enabling Norton Utilities Premium to constantly monitor your PC in real-time.
4. Real-Time Boost
In this section Norton Utilities Premium provides you options to automate the optimization of your CPU, RAM, and Storage drives by enabling them. It also shows you the real-time status of each of the hardware components of your PC individually and helps you resolve any issues found.
Norton Utilities Premium Pros & Cons
Pros –
All-in-one PC performance optimisation tool.
Simple and easy to use interface.
Real-time system monitoring.
Keeps the PC clean and clear from junks.
Supports all latest windows versions.
Extensive useful features list.
1-Click PC Optimisation feature.
Can schedule automatic scan and repair.
Cons –
No free version available to evaluate.
Yearly subscription based.
Exclusive for Windows only.
Why Trust Norton Utilities Premium Over Other Software
if we compare Norton then There are many features that makes those different from others and people prefer to choose this over anything. features like:
Real-time PC monitoring and optimization.
Removes and cleans system junk files, cache and temporary files.
Helps remove unwanted start-up items to load faster for bootup.
Easy to use interface with 1-Click Optimisation feature to improve PC performance.
Speeds up and Cleans your PC by taking care of regular issues causing hanging or crashes.
Lets you securely dispose of all personal documents and prevents unwanted access.
Removes all the browser file downloads to prevent digital privacy breach.
Supports automatic PC scan and care when it is on idle.
Conclusion –
Instead of going through so many laborious manual tasks to keep your PC performing at the optimum state you can always consider getting Norton Utilities Premium software to do it for you with a few clicks.
Although it comes with a cost, we feel that it is a value proposition considering it provides so many features. It helps you keep your PC running consistently at its best without any crashes, freezing or lagging issues, while the software is monitoring in real-time.
Frequently Asked Questions
Q1. Is Norton Utilities Premium worth it?
Yes, it is absolutely worth the price, for the number of features it provides and helps improve your PC performance significantly. Not only that it also keeps monitoring for errors and issues in real-time to keep your PC at its optimum best.
Q2. Is Norton Utilities Premium free?
Unfortunately no. Norton Utilities Premium does not provide a free trial version to evaluate. But we feel it is worth the price considering it helps you keep your PC performance and security at their best.
Q3. Is Norton Utilities being discontinued?
Yes, it is true that Norton Utilities is being discontinued from Sept of 2020, the product support has been stopped. But the product will continue to work fine on the installed PCs without any issues. Now it has been upgraded to Norton Utilities Premium as a better version of the same.
Q4. What is the difference between Norton Utilities Premium and Norton Utilities Ultimate?
Norton Utilities Ultimate is advance version of Norton Utilities Premium. You can buy this software for $69.99. This Software you can access on 10 PC with Some advance Fratures.
References:
https://www.amazon.com/gp/aw/reviews/B009PFT17Y
https://community.norton.com/en/forums/i-want-compare-norton-utilities-premium-and-norton-utilities-ultimate-understand-differences
https://www.trustpilot.com/review/www.norton.com