Instagram Story Viewer is a tool that allows one to view the stories posted by an Instagram user without informing them. These tools are very useful in many situations, as to avoid them knowing about your views on their Instagram stories.
As the traditional way to view someone's story on Instagram requires you to have an account and it will show your name in the list of the Story viewers to the user. But for any reason, if you want to skip that part, you can stick to the methods such as creating new accounts or borrowing a friend's account to view someone's Instagram Story without giving away your name.
Although these methods are seldom very useful, we present to you the easiest way out – Instagram Story Viewer. With the help of these anonymous Instagram Story viewers, you can watch the stories posted by a user with an Instagram account open to the public. It does not require you to log in and gives you easy solutions like downloading Instagram stories, posts or profile pictures.
Note: This blog does not promote stealing information and is purely educational.
Top Best Instagram Story Viewer –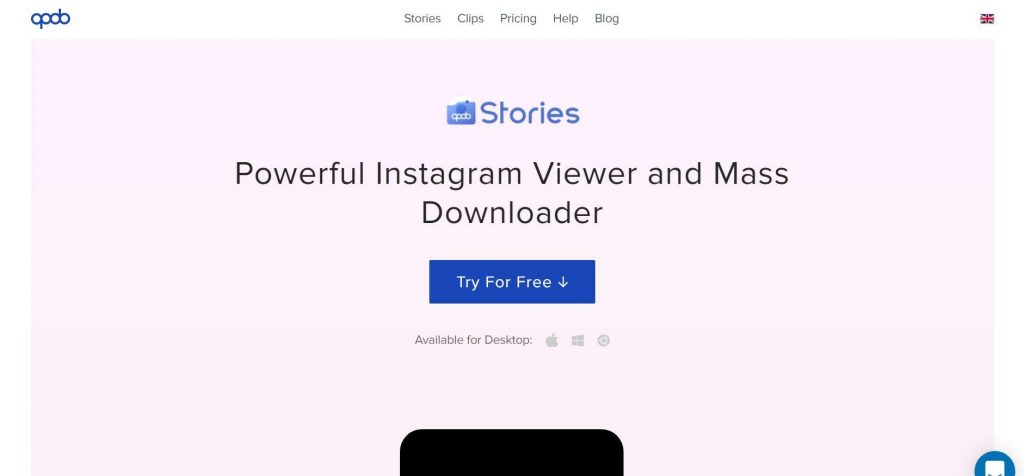 Qoob Stories is among the Best Instagram Story Viewer and also allows users to download all contents from Instagram. You can easily view instagram stories anonymously and download the same in high quality.
It's simple interface is easy to navigate around with a few steps for story view and download. It also allows you to add instagram accounts to your favorite list so you can auto view and download videos and photos in high quality.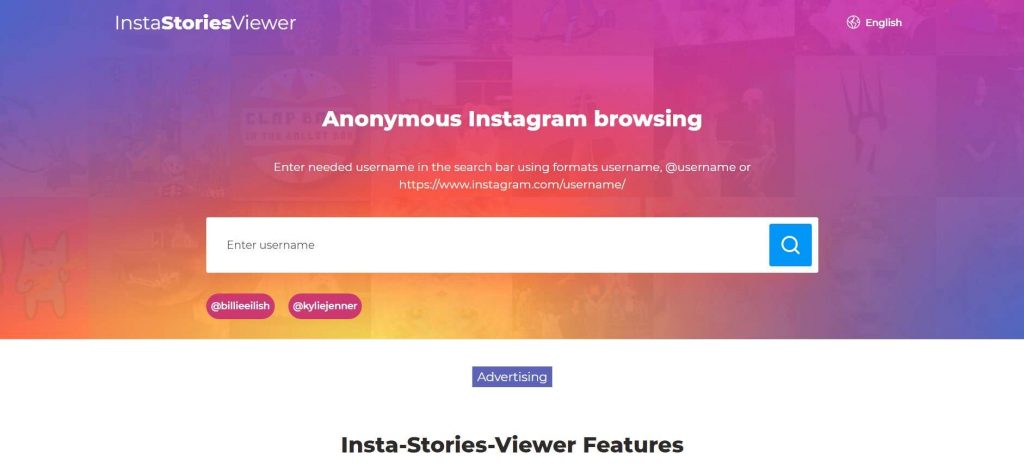 InstaStoriesViewer is another excellent online Anonymous Instagram Story Viewer which also lets you download them in high quality. This free online website allows you to view instagram stories anonymously, no need to create an account or login.
You can also download all instagram content for free in high quality and quickly depending on your internet speed. It is easy to access from any device through a browser quickly.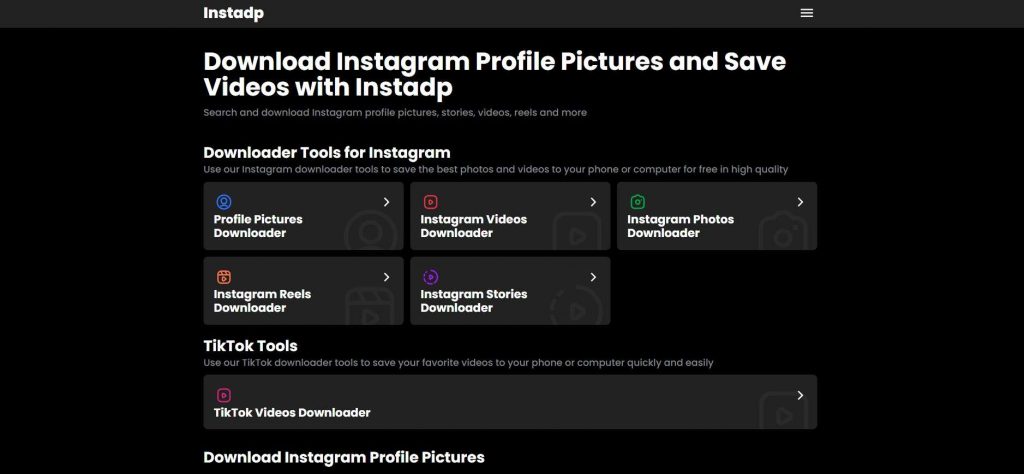 As the name suggests InstaDP helps you view and download various instagram contents while staying completely anonymous. This online web based tool helps you view and download various instagram contents like Profile Pictures, Videos, Photos, Reels and Stories with utmost ease and anonymity.
All the contents are downloaded in the highest quality possible with a few simple clicks due to its very simple and straightforward interface. As a bonus you can also view and download TikTok videos easily.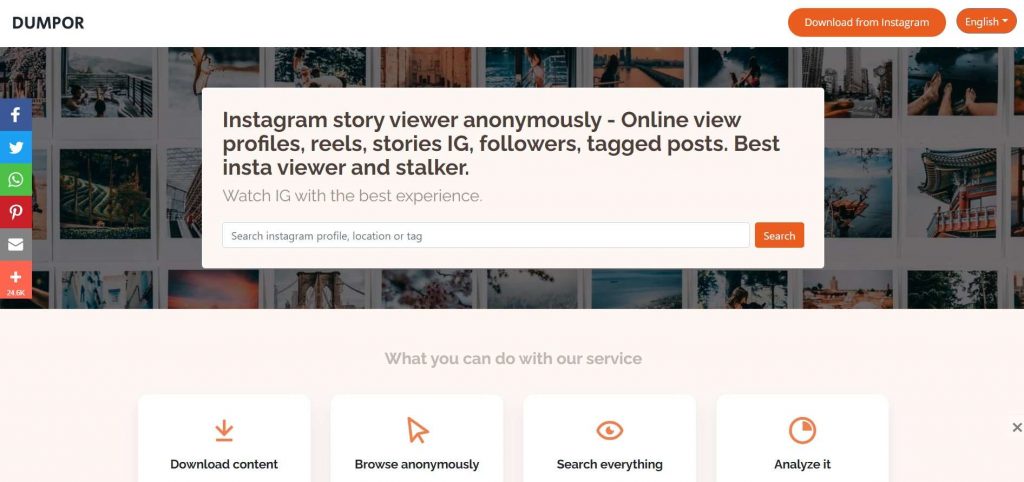 Dumpor is an powerful online free website service which lets users search for everything on Instagram by profile names, hashtags or locations to view instagram contents anonymously and download the same onto their device easily.
With this online service you can view anonymously instagram contents such as Profiles, reels , stories, followers, photos, videos etc without logging in to account. You can also download Instagram Photos, videos and Stories on to your device for free and anonymously for sharing or offline viewing.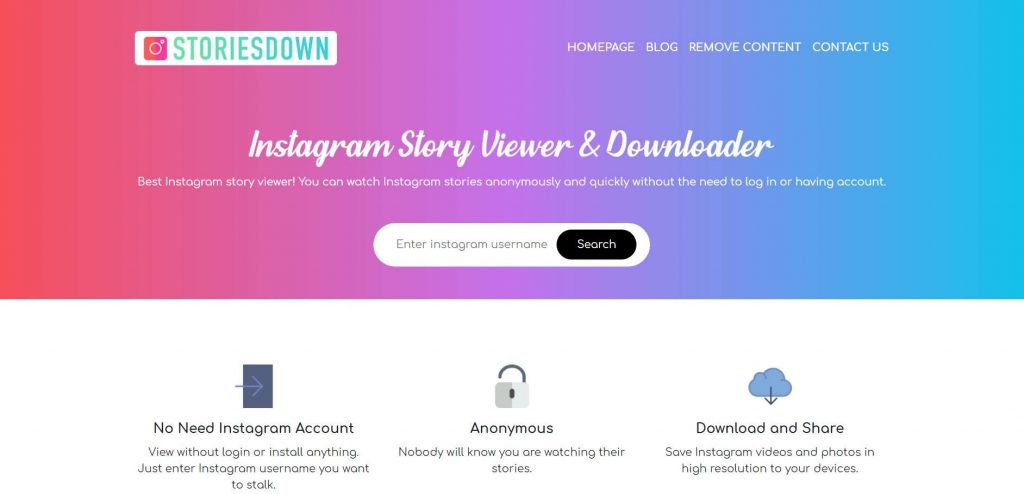 StoriesDown is another best Instagram Story Viewer and Downloader which lets users search for instagram profiles and view content anonymously. You can watch various instagram contents on this online free website without logging in or creating an account and also download them onto your device to share or for offline viewing.
Since you don't need to login to an account, no one will know you have viewed their instagram content and downloaded, everything is done anonymously and safely.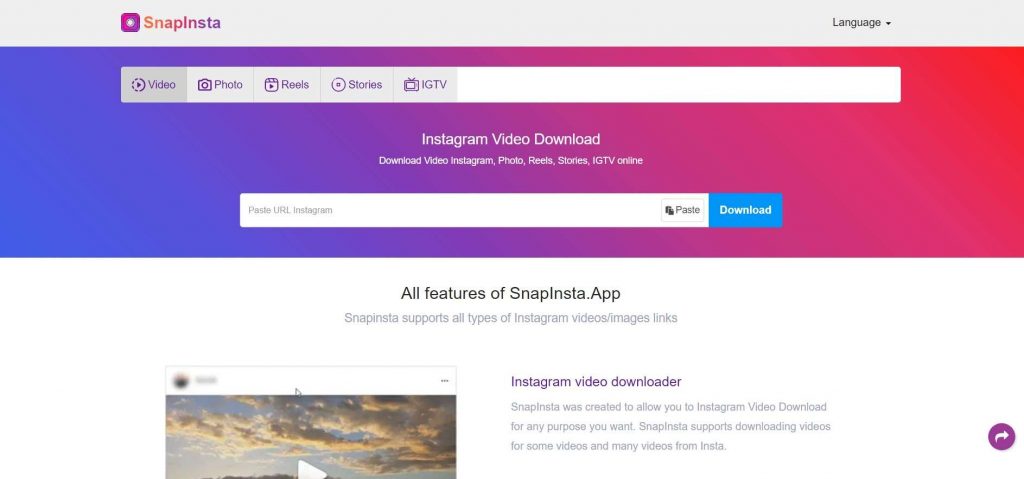 SnapInsta is a free online web service where you can view and download Instagram stories anonymously without login to your account. This easy, safe and fast website is extremely fast to view and download various instagram contents anonymously such as Instagram Stores, Photos, Videos, Reels and IGTV onto your device for offline viewing.
It is a better option to consider to watch and download instagram contents anonymously without installing any app on your device and no account login requirement.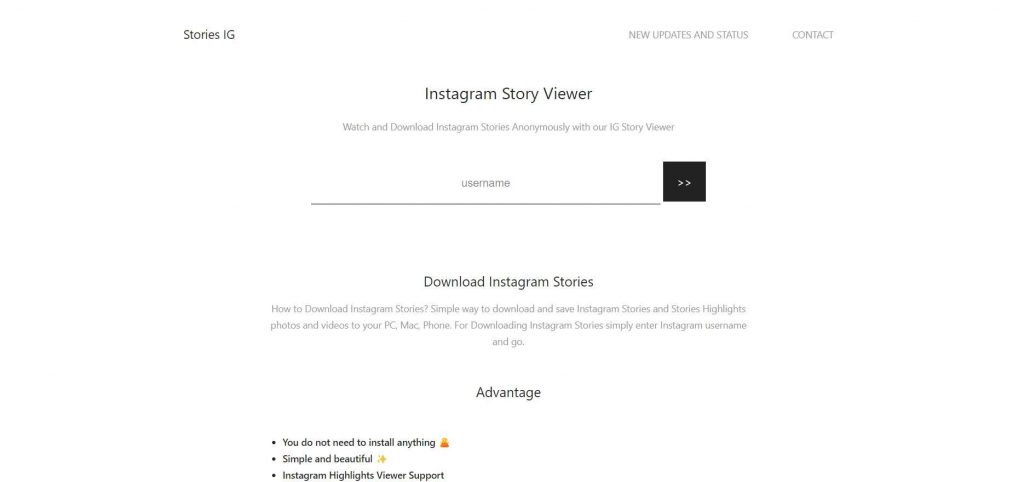 To watch and download instagram stories anonymously and without installing any app on your device you should check out Stories IG website services which lets you browse through instagram and download its content for free.
It's simple and easy interface lets you search everything on instagram and download Instagram stories, photos, videos to your devices easily and most importantly anonymously.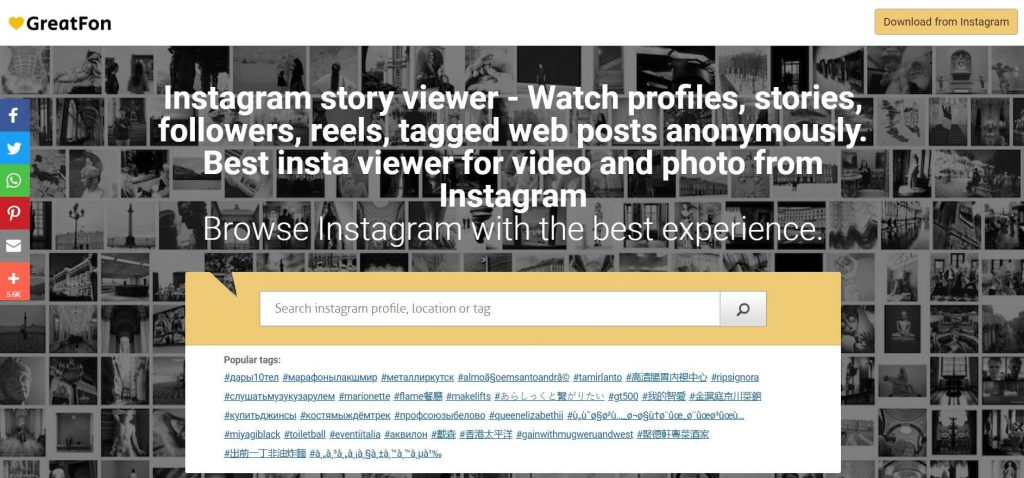 GreatFon is an online website that lets users watch Instagram Stories, Profiles, photos, videos etc anonymously without logging in.Its powerful search options lets you search everything on Instagram by hashtags, Insta account profile or user name to view anonymously.
You can also download all Instagram contents like stories, posts, reels and profile images easily of any Instagram account. This free online service lets you browse and download instagram anonymously without account login and installing any app.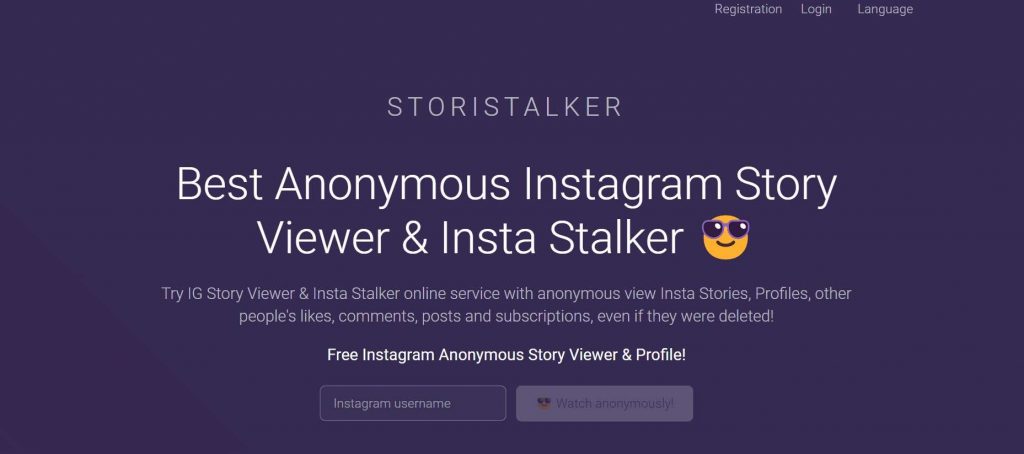 Storistalker is another free online website which lets you anonymously watch Instagram Stories and other instagram contents easily. Its easy and uncomplicated interface lets you search for Insta accounts and watch their stories, photos, videos and also reels anonymously and download the same onto your device.
You can use this online service through any device browser on all platforms easily without installing any application.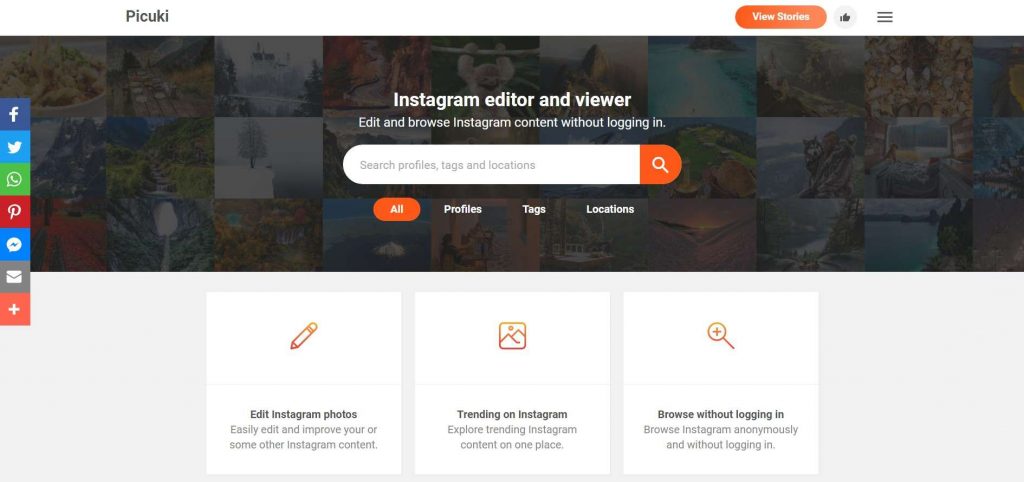 Last on our list of Best Anonymous Instagram Story Viewer we have Picuki online instagram editor and viewer which lets you view various instagram contents anonymously and download them to your device easily.
Picuki enables you to easily edit and alter your or others instagram content along with the option to download them onto your device for offline access anonymously without logging in. You can also browse through trending instagram content on its website anonymously to stay updated on current trends.
Conclusion –
So, whenever you wish to view someone's Instagram story without letting them know, now you know what can help you. Not one, but multiple online tools are there to guide you how to easily add their username and view your Instagram Story.
This works even when you do not have an Instagram account and sometimes saves you from the embarrassment of asking others. Use these Instagram Story viewers to check more than just the stories, as some of them offer more features such as downloading profile pictures and posts as well.