Building and starting a website has never been as easy as it is now. With many readily available website builder tools which are absolutely easy to use and uncomplicated to understand with no coding or programming knowledge. Read on to the review blog find out best website builders to consider for building your next website easily.
What is a Website Builder?
Website builders are usually online software platforms that provide various tools to design and deploy websites effortlessly with many configurations desired by users. These website builders can be used by users with no coding knowledge at all. They only need to have a proper understanding of what their website should look like and what service to provide.
Things to Consider before choosing Website Builder:
There are an abundance of website builders in the market, choosing the best one for your needs requires considering a few key factors. Following are the key things to consider before choosing what website builder is right for you.
Easy Interface – Any Website Builder should be easy to navigate around, display all the tools required, easy drag-and-drop designs, highly accessible and save precious time to create a website faster and easier. The ease of use factor plays an important role in deciding whether you should consider the website Builder or look for another.
Custom template and Themes – The Website Builder should also provide an extensive list of custom template, themes and images to incorporate in your websites easily to match your preferences. The more options provided, the more exclusive websites can be created.
SEO Support – Most users underestimate the power of a robust SEO support by best website builders. An easy to customize SEO for your website through website builder would enable your site to be better optimized for search engines.
Responsive Website – Your website should be optimized to various devices no matter where the visitor is trying to assess. Hence make sure the website builder supports you to build a responsive website to be able adapt to device screen sizes such as mobiles, tablets and computers.
Faster Load and Consistent Uptime – To make sure visitors to your website have a good experience a faster load times is a must, consider a Website builder which would support faster loading times. Along with that it is paramount that your website is always consistently available with high uptime possible.
Cost effective – Most Website Builders let users create professional looking sites often for free or lowest possible price unlike hiring any web developer or designer for much more price. It is important to consider an efficient and easy Website Builder which is also value for money to build your website up and running.
Web host support – Although many website builders support web hosting also, but sometimes it also happens you want to host your website elsewhere then it is important to make sure the website builder supports many web hosting services.
Scalability and growth – Many Website builders help you start a website up and running quickly but not many support when your website has increased traffic influx. So it is important to consider how supportive a Website builder is in terms of scalability and growth support when visitor traffic increases every time.
Best Website Builder Software –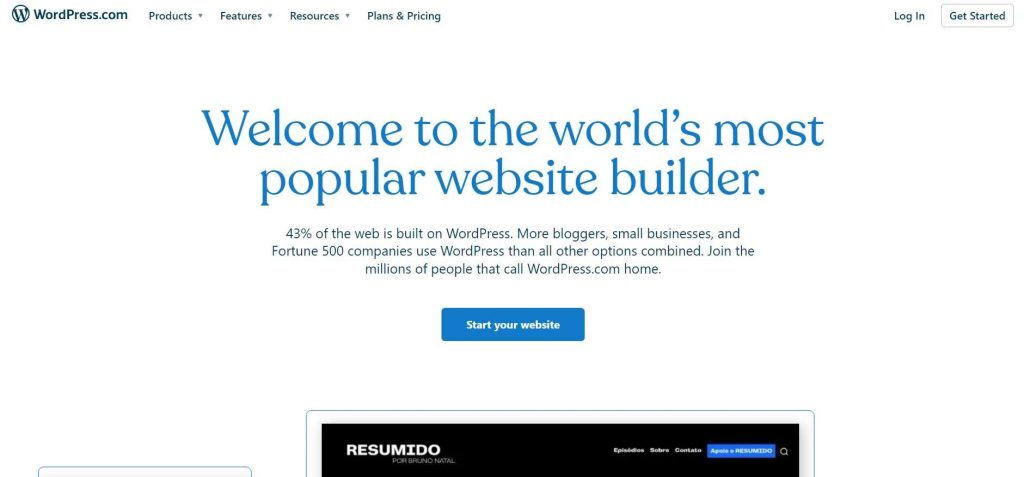 Top of the list of Best Website Builder we have WordPress, which is by far the most popular website builder ranking for highest percentage of websites currently available on the internet. WordPress makes it so easy and simple to create your own websites with extensive customisable templates, themes and feature lists in hours.
Pricing range – $0 to $15 / month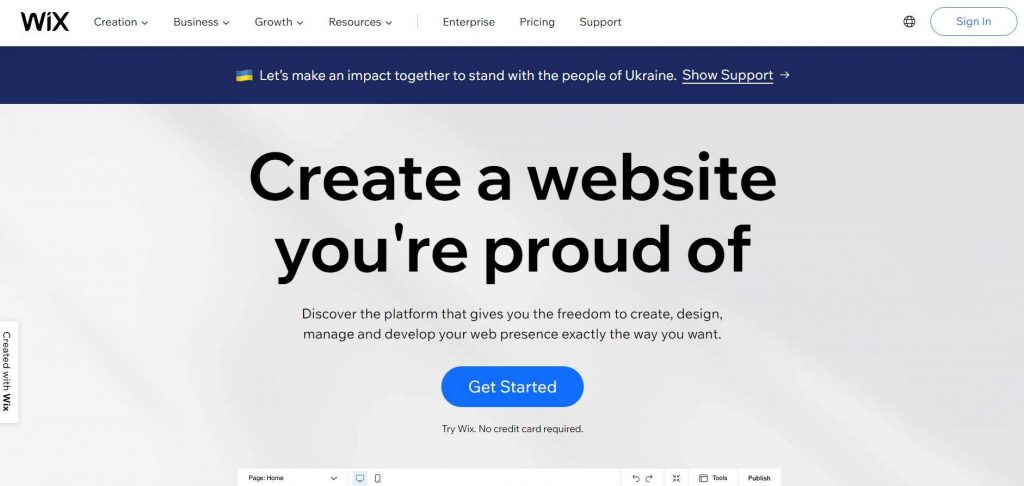 Another most popular website builder is WIX which has made a huge wave across the internet with an extensive number of websites created. This platform helps you create your websites extremely easily providing various templates, design, management and plethora of images.
Pricing range – $0 to $45 / month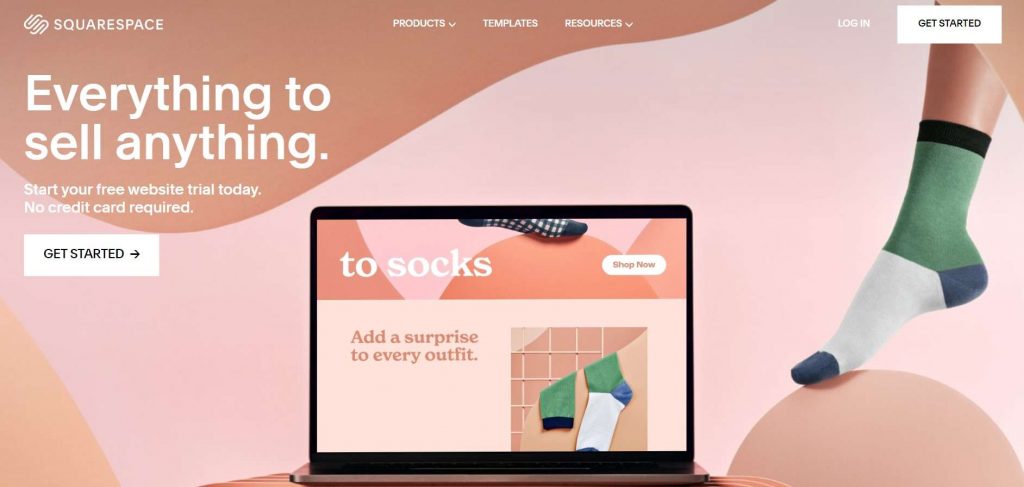 Squarespace is another excellent Website Builder which lets users build various types of websites easily using its extensive templates and tools. It offers much easier options to start websites for small businesses and e-commerces to power online stores. Although it provides a limited trial period to get started, its affordable pricing for various upgrades is impressive.
Pricing range – $16 to $49 / month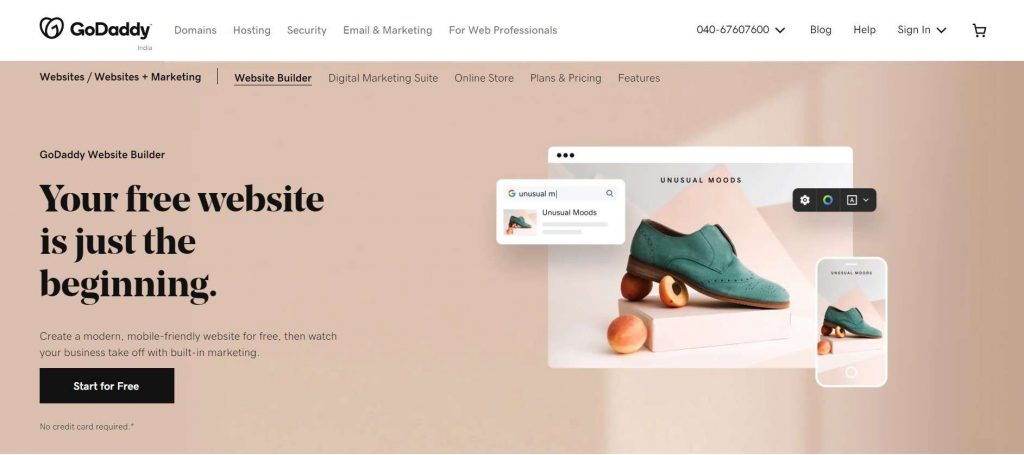 GoDaddy has been around for web domain and hosting services for quite a long now, they also provide an excellent Website Builder which helps you to create your website for free. Its very easy to use interface and navigation is very beginner friendly and intuitive to interact with. A complete solution for creating, hosting and website management under one platform.
Pricing range – $0 to $29.99 / month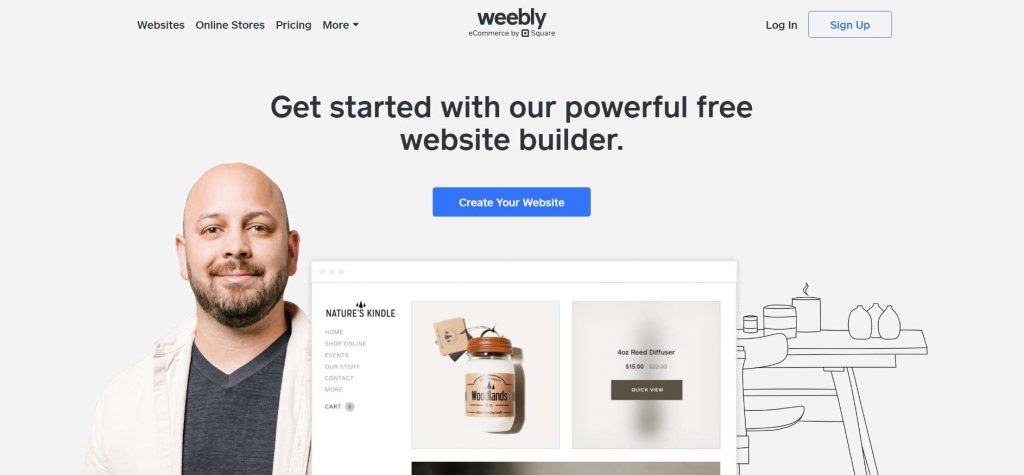 If you are looking to start a website for free then consider checking Weebly, Best Free Website Builder which lets you create your website for free and helps you scale up efficiently. This platform supports an extensive list of templates and an easy to use interface to create your website in a matter of hours compared to other platforms.
Pricing range – $0 to $25 / month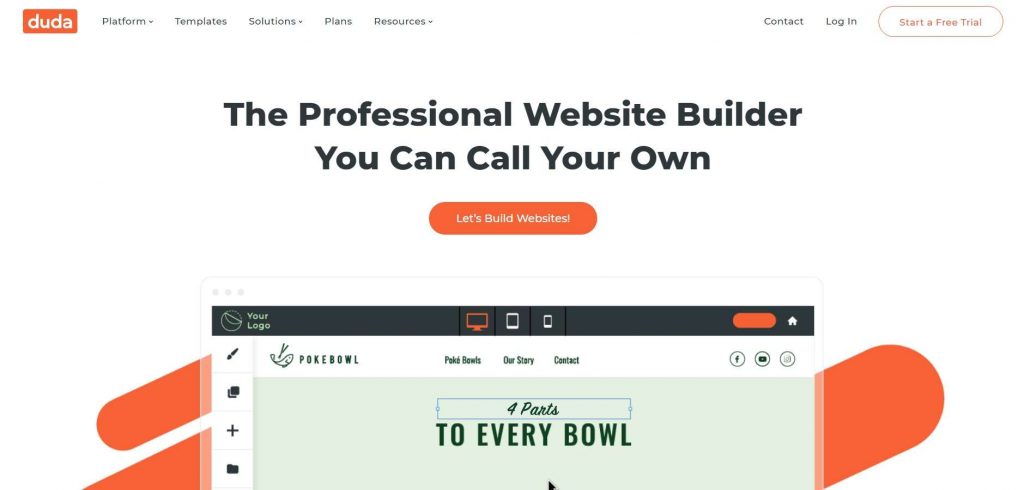 Duda is highly popular for creating professional websites for agencies and SaaS platforms, albeit it only supports limited free trial period its comprehensive feature lists makes it an Best Website Builder to consider. It supports creating highly responsive websites which adapt into all screen sizes right from the beginning.
Pricing range – $14 to $44 / month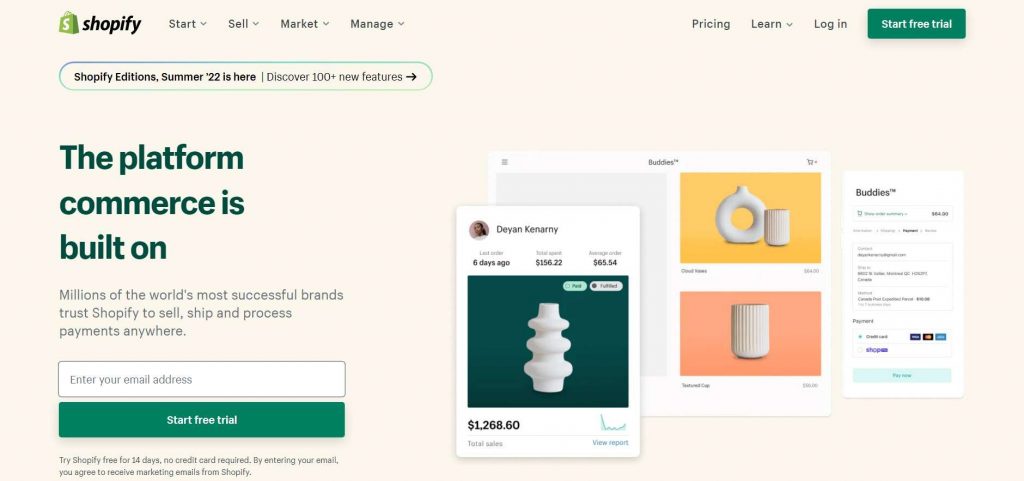 Looking to create an online store for your business then look no further than Shopify, it is the most popular Website builder for e-commerce. Although the prices are a little high, the feature list, templates, ease of use and quick support provided makes all worth it. The highest number of online stores e-commerce are created using Shopify to testimony the advantage it brings to your business.
Pricing range – $29 to $299 / month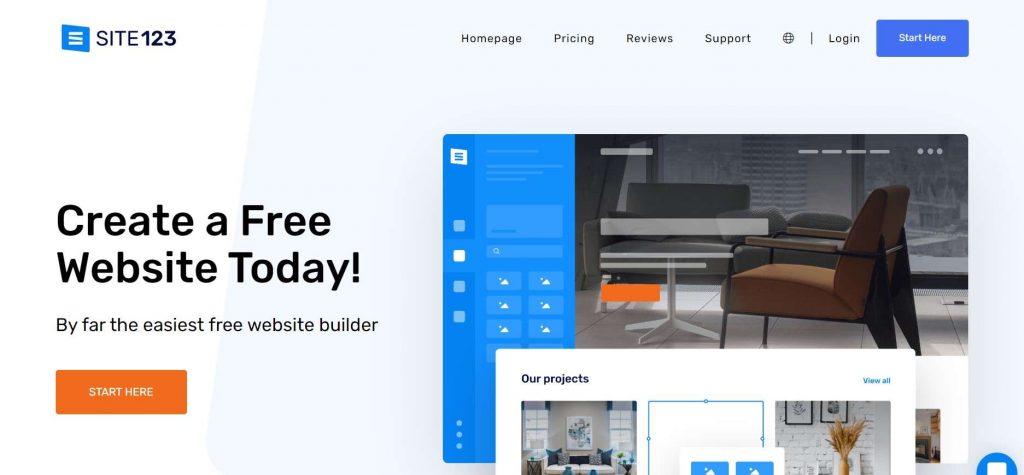 Site123 is among the most affordable Website Builder on the list which incidentally also helps you to create and run your website for free also. It contains a vast collection of beautiful website templates to choose from and a highly intuitive interface to just drag and drop to finish building your website. If you are looking for a website building free to create and host your website then do consider this platform.
Pricing range – $0 & $5.80 / month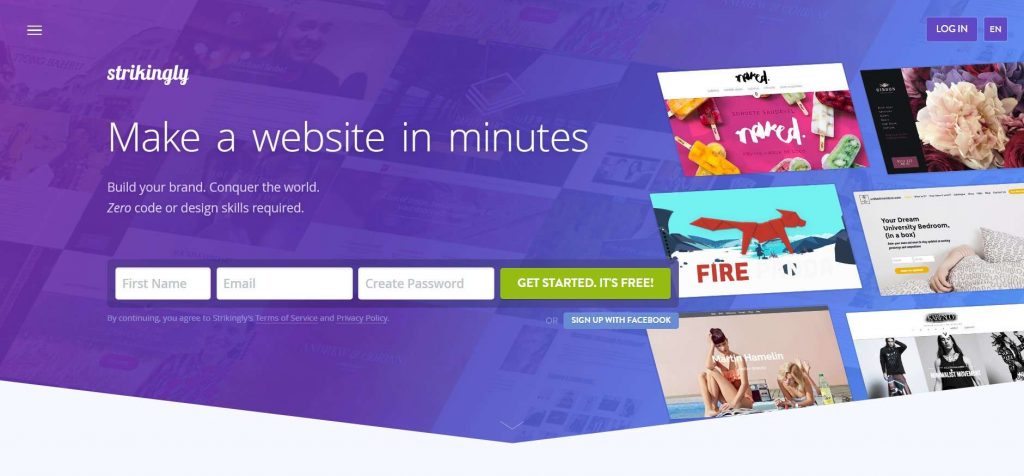 Strikingly is another great option for Website Building that helps you create your website with no coding or design skill requirements. It's easy to understand and the plethora of custom templates is more than enough to start your free websites up and running easily. With its easy on pocket pricing you can easily scale up your free website into a professional power house.
Pricing range – $0 to $59 / month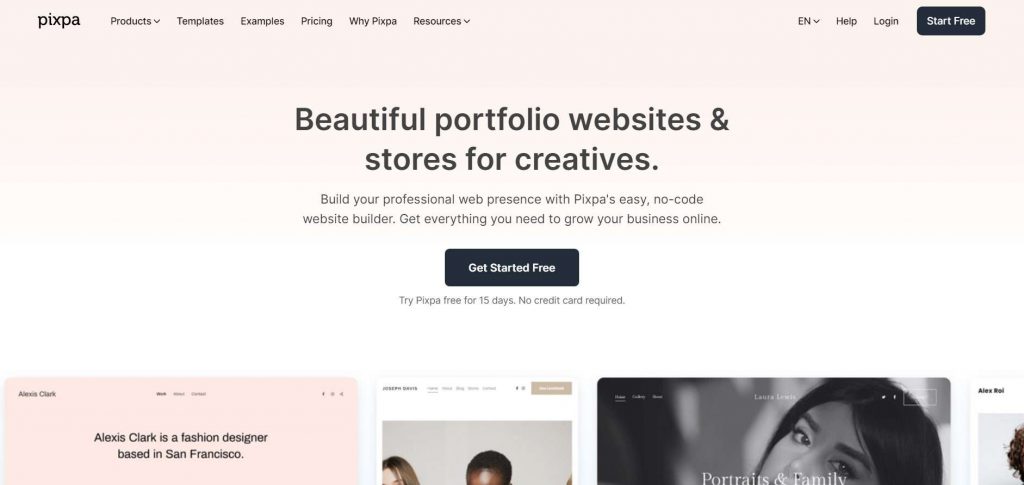 Pixpa is an all-in-one easy website builder software which lets creative professionals or small businesses create their websites with affordable pricing. With this application it is extremely easy to create beautiful portfolio websites and stores for artists to interact with their fans and expand their businesses.
Pricing range – $5 to $25 / month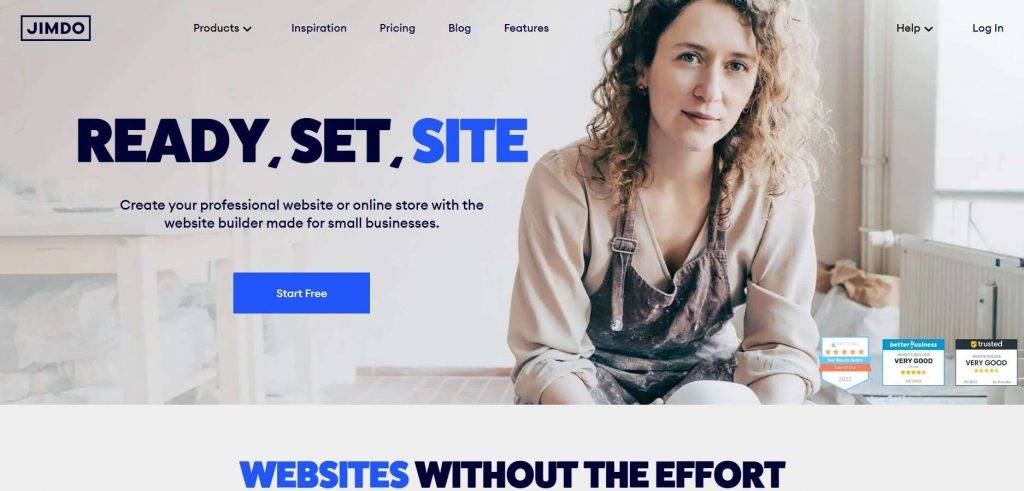 Finally the last best Website builder on the list is Jimdo providing an extensive tool to easily create your website with no sweat at all. You don't need to write a single code to create a website on Jimdo, everything is just drag n drop features along with few design alteration aspects to up and run your website in no time. It is most favorite with small businesses to scale up their business by utilizing their online store product.
Pricing range – $0 to $39 / month
Conclusion –
Selecting an ideal Website Builder for your requirements is of paramount importance when you are looking to scale up your website and on a strict budget. There are lots of different Website Builders available which offer a unique to very useful features list for you to take advantage.
Eventually, it comes down to your alternative preferences such as price, ease of use, coding or design skill, etc to narrow down the perfect website builder.