Just starting to know about NFTs and the cryptocurrency world ? Curious to find out how to start NFTs collections ? Or are you even interested in investing in the NFTs ? But to start with any of these things related to Crypto space and NFTs, it is paramount you find out what NFT wallet is. To help you find out more information regarding NFT wallet and its importance in the NFT marketplace and crypto space, keep reading.
What is NFT?
NFTs or Non-Fungible Tokens are digital tokens stored on the blockchain containing verified authenticity and certificate of ownership for unique digital assets such as artworks, photographs, audios, memes, video clips and many more. Because of its exclusivity and the NFTs being the unique digital items, this factor makes them highly valuable for collectors and enthusiasts to sort after for higher price value.
Looking at the recent boom in the NFT marketplace and the rapid expansion of the cryptocurrency world, it is essential to have an NFT wallet to store and manage NFTs.
What are NFT wallet's?
Just like traditionally how a wallet is used to store valuable assets to keep securely and safe, the same rules apply for the NFT wallets where it is used to store all the NFTs and all digital assets safe and secure. Hence it is at most important to choose the right NFT wallet to store your digital assets safe and secure from online hackers with excellent ease of use.
Before choosing NFT wallets it is also important to consider how easy is the interface to use and how safe and secure with all the security features available to store valuable digital assets.
Now, as it is established how important it is to choose the right NFT wallet for your needs, below are some of the best NFT wallets we have curated for you to select from.
Best NFT wallets to consider for storing and trading NFTs- 

1. Trust Wallet
Top of our list for best NFT wallets we have Trust Wallet, with its highly secure wallet system and extremely easy user friendly interface. This NFT wallet makes it easy to buy, store, trade, collect and cash out NFTs along with provision to quickly convert NFTs into digital assets through built in exchange. Trust Wallet is very beginners friendly for its easy navigation and sleek user interface.
Features –
Extremely user friendly interface.
Exclusive sections for NFTs.
Simple and easy steps to use.
2. Metamask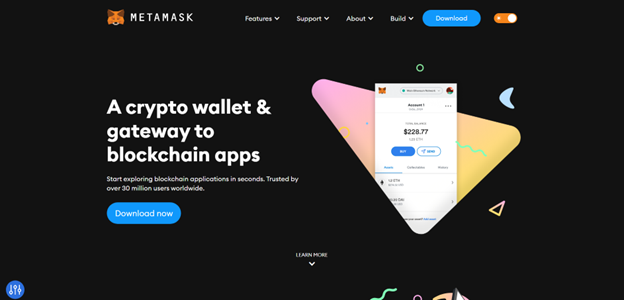 MetaMask is another most popular NFT wallet to consider for its ease of usage for both beginners and advanced users alike. It has a browser extension that provides simple and easy access to web3 sites like NFT marketplaces. This wallet is available both as a browser extension and mobile app equipped with key vault, secure login, token exchange and token wallet to manage digital assets.
Features –
Straightforward wallet interface for beginners.
Highly popular with a vast user base.
Easy browser extension for web3 sites.
3. Enjin Wallet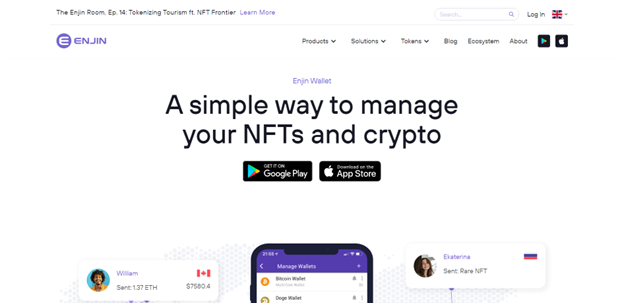 Enjin Wallet is among the most versatile wallets from the list of best NFT wallets available due to its multiple crypto support like Ethereum, Litecoin and Bitcoin etc. This NFT wallet is highly recommended for NFT gamers for the extensive feature list provided for the ease of multi purpose use. Enjin wallet is rated among the highest with respect to the security it provides for digital assets along with external interaction with others.
Features –
Excellent for NFT gamers.
Extra security features such as fingerprint scanner.
Versatile wallets for multi support.
4. Alphawallet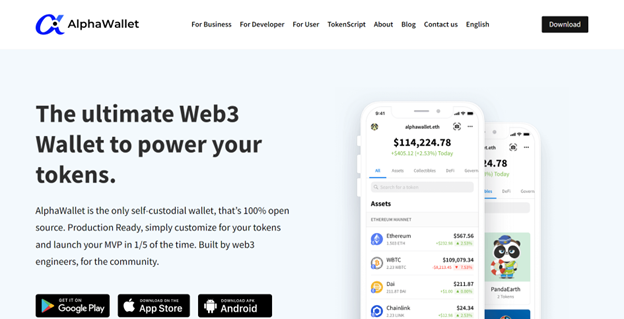 AlphaWallet is another extraordinary NFT Wallet to consider, its an open source wallet offering quick and easy steps to store digital assets. This wallet is self-custodial, hence the tokens are always extra safe. AlphaWallet is also one of the best Web3 wallets to power your tokens. The wallet uses a secure enclave to boost security providing phishing-proof signed SmartTokens.
Features –
Open source , self custodial NFT wallet.
Beautiful and intuitive user interface.
Highly rich security feature list.
5. Coinbase wallet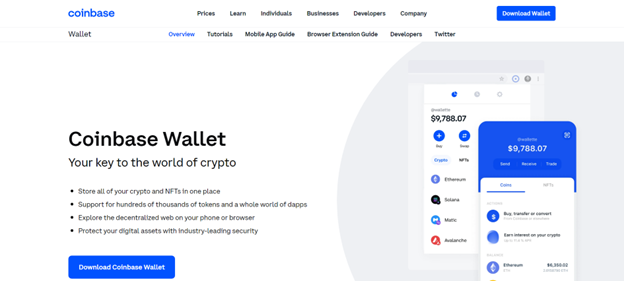 Coinbase is another most popular NFT wallet which allows users to store multiple cryptocurrencies and NFT collections securely. Since it is a self-custodial wallet, it provides that extra level of control and security from online attacks. This wallet has one of the best industry standards security features to keep digital assets highly safe. Due to its easy and simple user interface it is very beginner friendly to start with NFT and crypto space.
Features –
Simple and easy wallet for beginners.
Complete control with self-custodial wallet.
Expert level security features for all devices.
6. Crypto.com Defi wallet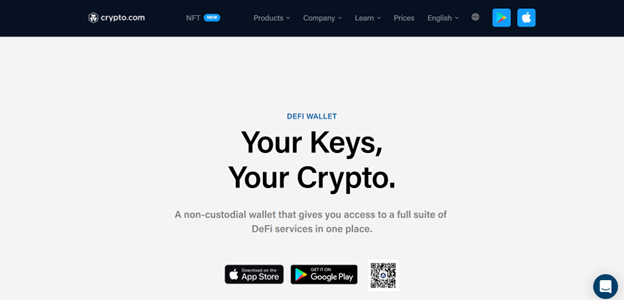 Crypto.com DeFi Wallet is among the most popular NFT wallets available due to its vast user base and high level security features. It is a non-custodial wallet meaning full user control over the wallet with respect to private keys and transfers. This wallet is excellent for NFTs since it provides a dedicated section for all digital collections and also provides the option to share NFTs on social media by creating image templates.
Features –
Share NFTs on social media.
Earn interest in crypto in wallet.
Non-custodial wallet to take full control.
7. MyEtherwallet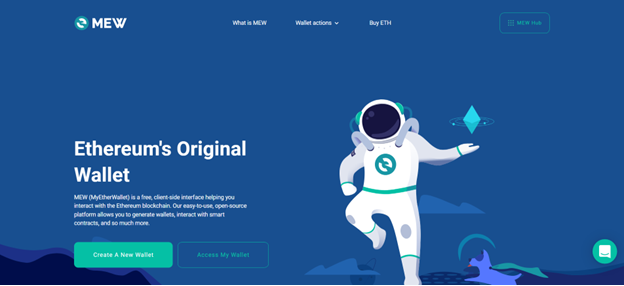 MyEtherWallet (MEW) is an open source NFT wallet originally for Ethereum blockchain.With this wallet its easy to manage and view all the collectibles and digital assets in MEW's NFTs manager. This also supports other Ethereum enabled networks, so it's easy to manage assets beyond the main Ethereum network. With an elegant and friendly interface it is among the best exclusive wallets for easy and secure access to the Ethereum Blockchain.
Features –
Open source platform for Ethereum blockchain.
Support for all major hardware wallets.
Multiple levels of security features.
 8. Math wallet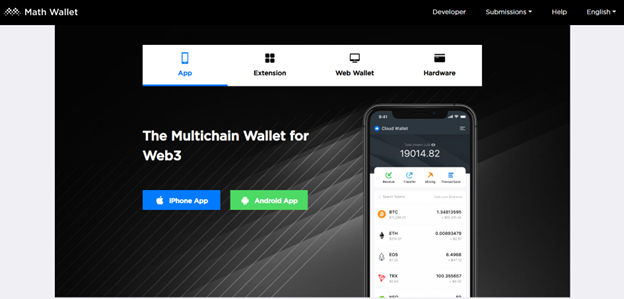 Math Wallet is considered one of the best NFT wallets due to its ability to be the multichain wallet for Web3 platforms. One of the best NFT wallets to support both mobile app and browser extension along with the ability to integrate with several hardware wallets. With this NFT wallet it is extremely easy to manage and transfer all the digital assets by its highly secure multi cryptocurrency wallet from one place.
Features –
Supports most of the blockchains.
dApp browser built in for NFT marketplace.
Integrations with several hardware wallets.
9. Pillar wallet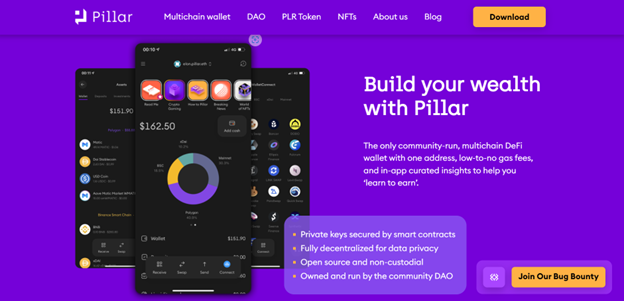 Pillar is a multi chain wallet with support to most blockchains available which makes it one of the best NFT wallets. With this wallet you can easily connect and run all the needs from multiple blockchains along with high security features. This NFT wallet is basically owned and run by the community DAO and fully decentralized for the assets privacy.
Features –
Multichain wallet supports most blockchain.
One stop for NFTs, tokens, dApps and DeFi services.
It is open source and non-custodial.
10. Hardware wallet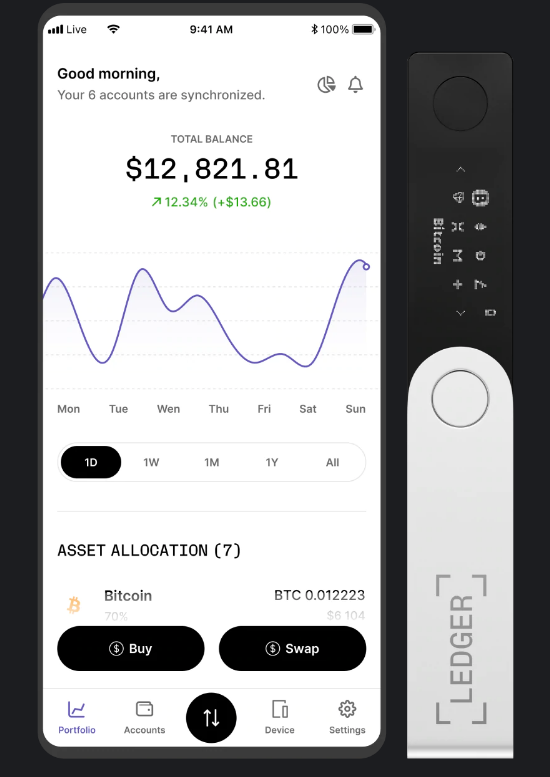 Most online wallets are highly secure and safe to store your assets, but some unfortunate times it is also possible to get hacked by mistake or by trusting some links to share wallet information. So to avoid such circumstances a hardware wallet is the most safest option to consider storing all your digital assets and NFTs, since all the data is secured offline.
All hardware wallets come with the highest security of secret passcodes for assessing data stored inside, thus no one else can transfer the stored assets data without unlocking the passcode but yourself. Also it is possible to combine hardware wallets with other online NFT wallets for extra security.
Features –
Secure from online hackers and theft.
Higher level encryption passcode.
Can combine with online wallets.
Conclusion –
Ever since NFTs were first introduced it was evident it would expand itself into all possible online platforms and digital space. Although it is a niche and budding platform relatively speaking, it is also highly lucrative and profitable. Hence, it is high time to get investing in NFTs, before doing so it is crucial in deciding the right NFT wallet to keep all your digital assets safe and secure. Going through the above list of best NFT wallets, you can choose the one which best suits your needs and requirements.