If you are just starting into the Crypto world and need assistance with where to start, obviously you need to start with Cryptocurrency Exchange to buy or sell them first. Selecting the right crypto exchange service for your needs takes tiresome research and can seem highly time-consuming.
Don't worry, we have created a list of top Cryptocurrency Exchanges for you to go over and choose the best for your needs. But first, let's get a basic overview of cryptocurrency and cryptocurrency exchange.
What is Cryptocurrency?
Cryptocurrency is basically a digital currency that is secured by Cryptography, compared to conventional currency secured by a government. You can use cryptocurrency for online payments, investments and transactions regularly around the world.
The main features of cryptocurrency is its decentralized design, peer-to-peer transactions and based on a blockchain ledger network. Totally eliminating central authority, bank fees and cross-border transaction charges.
What are Crypto Currency Exchanges ?
Cryptocurrency Exchanges facilitates a platform for users to buy or sell Cryptocurrencies depending on the current market valuation by charging nominal transaction or gas fees.
Which essentially means a digital online trading market where you can create an account to buy or sell cryptocurrencies for the current market prices of the cryptocurrencies through various payment options. Along with Cryptocurrency exchanges, you also need to set up a Crypto Wallet to store these Cryptocurrencies and digital assets safely.
Criteria to Choose Crypto Currency Exchanges –
In recent times seeing the boom in Crypto Space, many Cryptocurrency Exchanges have come around. Although you don't need much technical knowledge to access and operate these exchanges, there are few main criterias you need to consider before making the right choice.
Supported assets – It is important to make sure the crypto exchange offers multiple cryptocurrencies to buy or sell other than just Bitcoin. It's never too bad for more choices between cryptos for you to consider.
Transaction fees – Another crucial criteria that would determine the best crypto exchange for you is its low transaction. Just like in a traditional trading market you need to pay commision for each trade done, similarly you need to pay translation fees for each trade on crypto exchange.

Volume of transactions – To determine how popular or reliable the crypto exchange is, you need to check out the volume of transitions done in 24 hours. That would determine if you can trust on the platform to start trading.

Payment methods – The flexibility of initial payment methods offered by the crypto exchange would enhance the experience that much. The more fiat currencies are supported the more advantage to the users.

Security – Finally you need to make sure how secure the crypto exchange is. What security measures have they implemented from online hackers and frauds?.The more safe and secure the platform is, the more safe and secure would be your trading and assets. 

Customer Support – It is also important to choose a crypto exchange which provides excellent customer support service under unfortunate events.
We have curated a list of top Cryptocurrency Exchanges considering all the criterias mentioned above for your convenience. Please go through the list and choose the right platform to begin your crypto space journey.
List of best Cryptocurrency Exchanges to buy from in 2022 –
1. Coinbase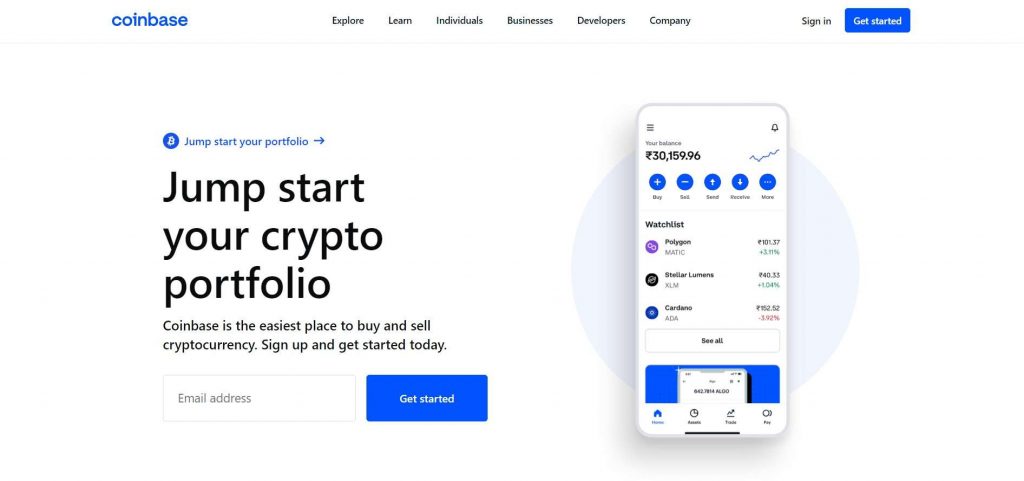 Coinbase is by far the most popular and highly reliable Cryptocurrency Exchange for buy, sell and trade cryptocurrency. It provides a very simple and easy interface to navigate for beginners, flexible payment options along with a large number of cryptocurrencies to choose from.
Features –
Multiple Cryptocurrencies trading options.
Easy and simple interface to navigate.
Most popular and reliable platform.
Transaction fees – 0% to 0.60%
2. Crypto.com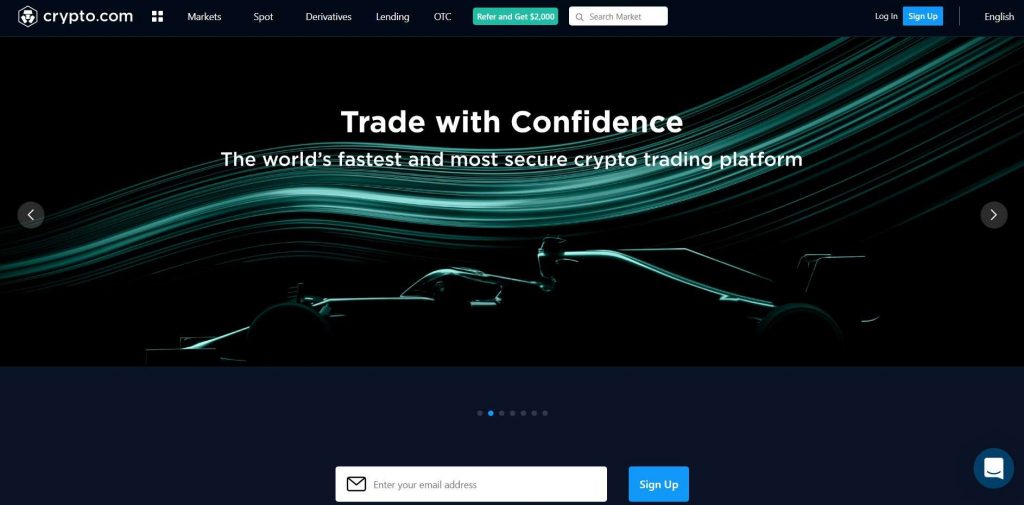 Another most common and popular crypto exchange platform is Crypto.com, it has been around for a long time offering a wide range of crypto products. Crypto.com supports a huge list of cryptocurrencies to buy, sell and trade along with multiple other digital assets to be invested.
Features –
Large collection of cryptocurrencies.
Offers a plethora of crypto products.
Exclusively mobile based application.
Transaction fees – 0.04% to 0.4%
3. Gemini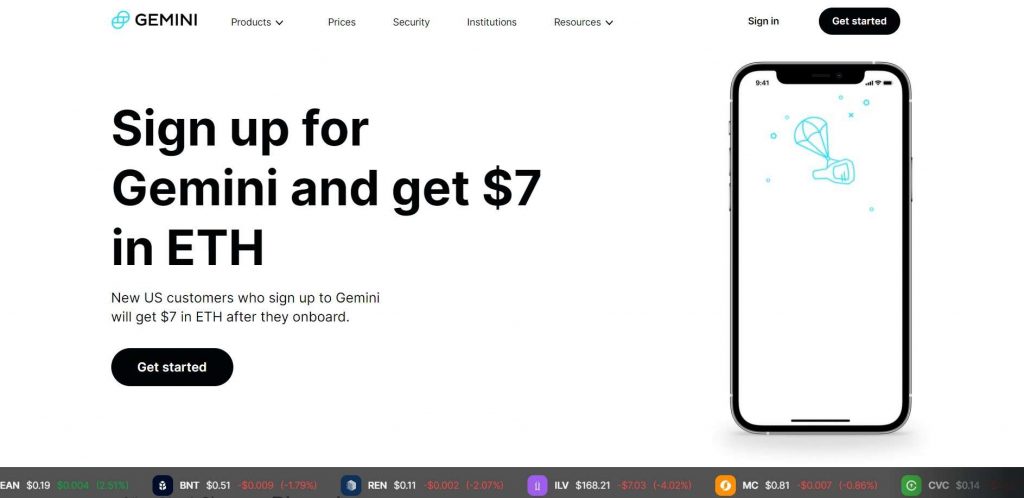 Gemini is the name synonymous with security in the crypto space, it is among the most security features rich crypto exchanges available. This platform offers trading services for both individuals and institutions alike, with an extensive list of crypto products other than crypto trading.
Features –
Robust security features.
Supports both individual and institutional services.
All types of crypto products.
Transaction fees – 0% to 0.4% for active trader, 1.49% for regular
4. Binance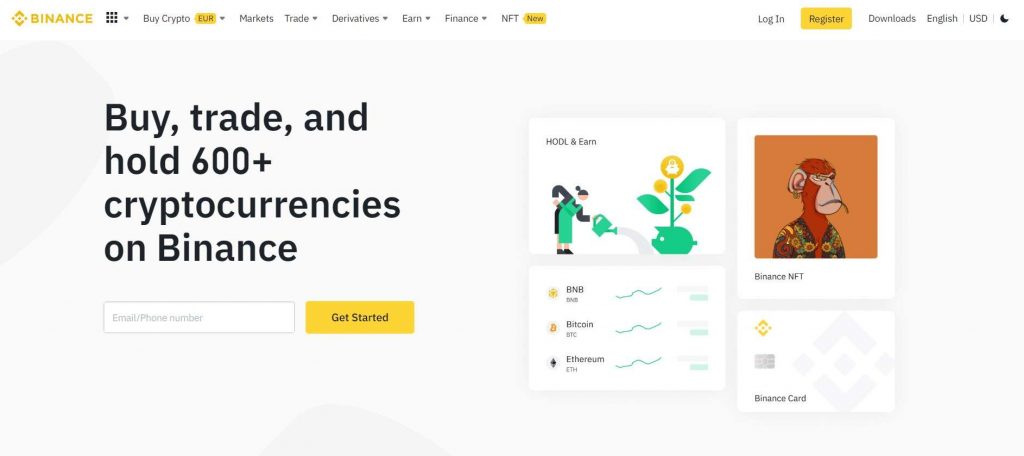 Binance is another most popular cryptocurrency exchange with its robust trading platform supporting a huge collection of cryptocurrencies and digital tokens. It is one of the top choices for crypto exchanges in the decentralized platform for its many investment options, low transaction fees along with fastest speed.
Features –
Huge collection of cryptocurrencies and tokens.
Supports low transaction fees.
Fast and reliable transaction speeds.
Transaction fees – 0.1% for spot trading
5. Kraken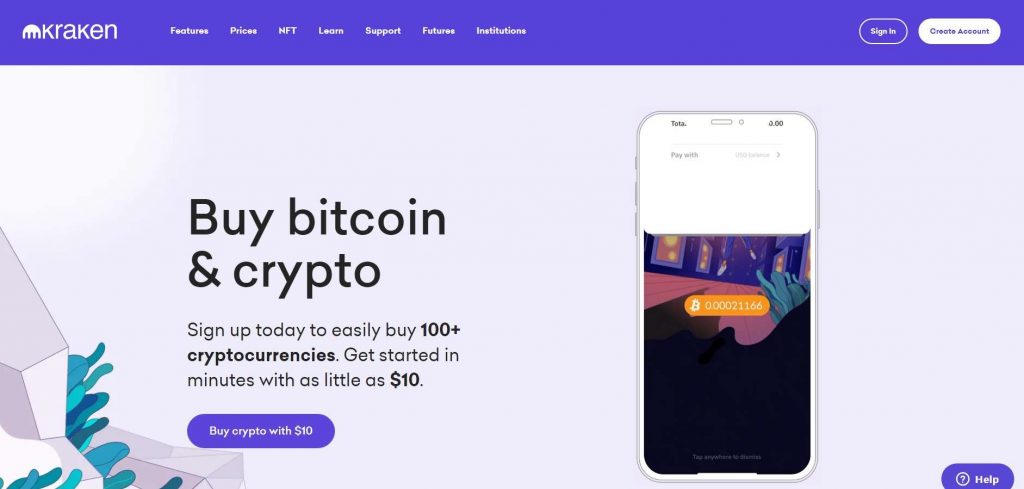 Kraken has gained a lot of traction among the crypto enthusiast lately with its plethora of features, but it is among the best crypto exchanges for large collection of cryptocurrencies and lowest transaction fees. For experienced traders it offers advanced services like support margin, order types and futures trading.
Features –
Offers low transaction fees.
Advanced trading platform services.
Multiple number of cryptocurrencies.
Transaction fees – 0% to 0.26%
6. Voyager

Voyager is a popular crypto exchange platform to invest in crypto assets considering it was one of the first publicly traded exchanges. It is an app based platform and offers a commission less trading structure. Voyager supports a large collection of crypto and digital assets and also you can earn interests on your assets holdings.
Features –
Commission less trading platform.
Large collection of crypto and digital assets.
Easy and simple app interface.
Transaction fees – 0%
7. eToro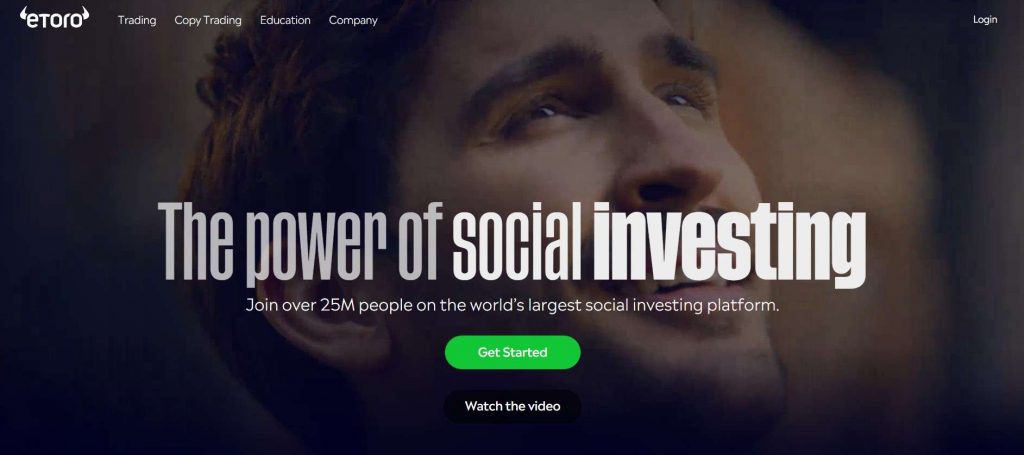 eToro is among the best social trading networks which offers a vast collection of various crypto assets to trade. Its Copy trading feature lets users copy the trades of successful investors, or you can share your strategies for extra benefits. Importantly for beginners it supports practice trading accounts to learn before starting with real funds.
Features –
Copy trading feature available.
Large collection of various crypto assets.
Support across the globe.
Transaction fees – 1% across
8. Cash App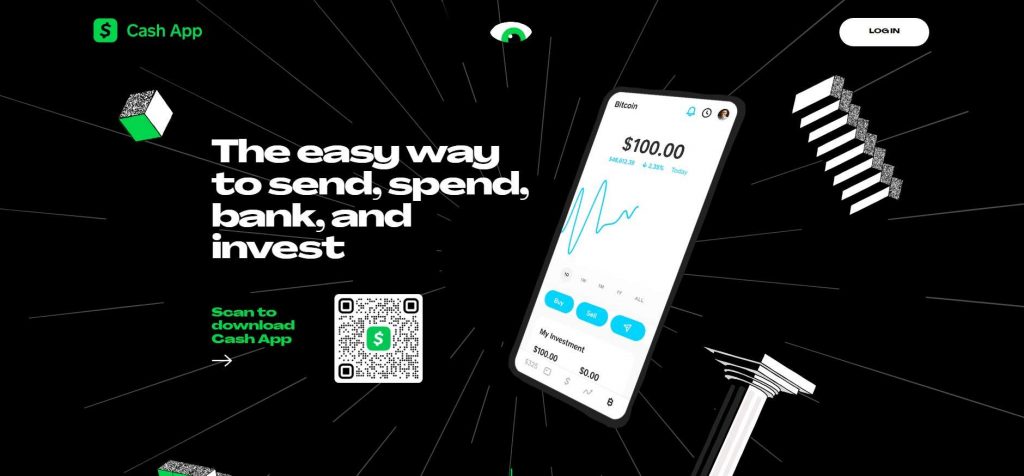 Cash App is exclusive to Bitcoin only exchange, but considering Bitcoin is the largest Market Cap currently it is the best Crypto Exchange to trade Bitcoin. It supports the Bitcoin Lightning Network for instant transactions with low fees, along with the ability to withdraw Bitcoin to third-party wallets since Cash App wallet is custodial.
Features –
Best platform to trade Bitcoin.
Extremely easy and simple interface.
Can withdraw crypto to third-party wallets.
Transaction fees – 1.5% to 2.3%
9. Bisq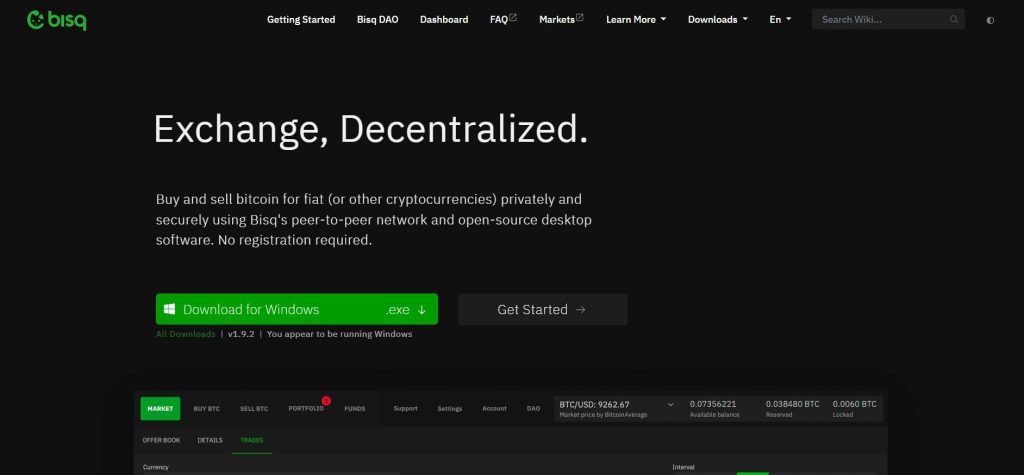 Bisq is among the best decentralized crypto exchanges which is open-source, peer-to-peer and supports across the blog to trade cryptocurrencies and tokens. It provides an excellent platform for users across the world to buy and sell cryptocurrencies privately and securely.
Features –
Across the globe supported.
Decentralized platform with highest privacy.
Large payment method options.
Transaction fees – 0.1% to 0.70%
10. BlockFi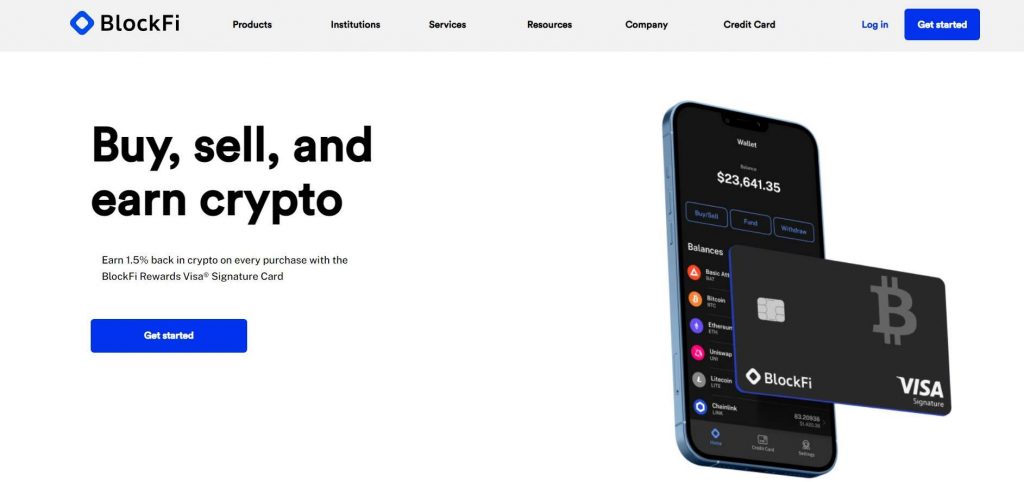 BlockFi is another cryptocurrency exchange platform which supports various cryptocurrencies to buy, sell and earn. It lets you lend and earn interest on your Crypto assets holdings. Instead of selling cryptocurrencies, you can borrow loans against your crypto holdings.
Features –
Lend and earn interest on Crypto assets.
Supports loans against your Cryptocurrencies.
Low transaction fees.
Transaction fees – 0% to 1%
Conclusion –
For beginners starting in the crypto world, it is paramount to choose the right cryptocurrency exchange for their individual needs. You should consider the main criteria's such as highest Security, large collection of crypto's, lowest  Transaction fees and highly Reliable platform before making your choice.
Above we have tried to provide the best crypto exchange platform available to start, but we would recommend Coinbase to be the most beginner friendly with easy setup and friendly navigation supporting largest crypto collections. Consider the right platform for your needs after going through the above list.