Looking for a CBT-based Therapy Platform? Then yes you have heard the right name Online-therapy.com. Unlike the very popular online therapy providers BetterHelp and Talkspace who have many verticles in providing therapy, online-therapy.com stood out by being a provider specializing in CBT Online therapy.
So we decided to review their services. In this blog, you will find a detailed review of online-therapy.com, what its sign-up process, its pros and cons, and many more.
Online-Therapy.com Overview: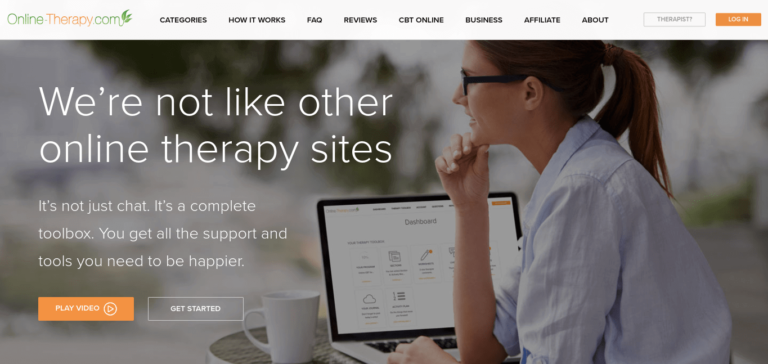 Online-therapy.com is a subscription-based and affordable therapy platform. They provide services in 24 US states, the UK, Canada, and Australia. you can check out the quick summary detail below:
| | |
| --- | --- |
| Specialization | CBT based therapy |
| HIPAA-Compliant: | Yes |
| Prices | It starts from $50/Week |
| Usability | Only Web |
| Year Founded | 2009 |
| Session Medium: | Video, Chat, Voice, Messaging |
Signup Process of Online-Therapy.com:
To Start with online-therapy.com go to the website whether it is on desktop or mobile. Now you will be asked a bunch of questions about your mental health, your preferences about the therapy like the gender of the therapist, session type, and session timings.
To complete the signup process you need to fill email, name, DOB, location, password, and Nickname if you do not want to reveal your actual name.
After completing the signup process you will be immediately matched with the therapist and you can access the therapist profile.
If you are happy with the matched therapist then you need to just select your preferred plant and provide an emergency contact.
Note: if You don't like the therapist after your first or second session of therapy you can change it anytime with a single click.
Areas of Expertise:
The professionals of online-therapy.com are certified and able to provide different therapy types but They are trained specially in CBT-based therapy. Below are the problems the Therapist can treat:
| | | | |
| --- | --- | --- | --- |
| Anxiety | Depression | Parenting | LGBTQ+ issues |
| Self-esteem | Domestic violence | Weight loss | Career issues |
| Post-traumatic stress disorder | BPD (Borderline Personality Disorder) | OCD (Obsessive-compulsive Disorder) | Autism or ADHD |
Price Details of Online-Therapy.com :
Below are the price and subscription plans of online-therapy.com: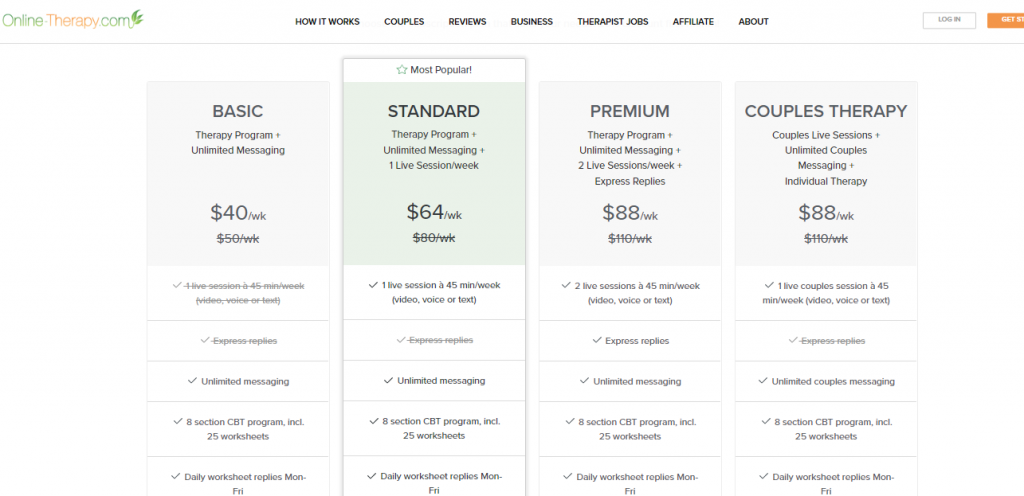 BASIC($40/Week):
In this Plan, You will get Unlimited messaging, 8 section CBT program, incl. 25 worksheets, Daily worksheet replies Mon-Fri, yoga/meditation videos, journals, activity plans, and tests. Although you will not get any live sessions with the therapist.
Standard: $64/week (Recommended):
In This Plan you will get all the services of the basic plan + 1 live session à 45 min/week it could be through any medium video, voice, or text).
PREMIUM: $88/Week:
If you choose this plan you will get all the services of the basic plan + 2 Live sessions/week and an express reply from the therapist. If you are looking for a session more than once a time in week this plan is perfect for you.
For Couple Therapy: $88/Week:
Unlike any other plan, this plan is specially designed for people who have relationship issues or want couple counseling. In This Plan, you will get a basic plan feature and 1 Live couple session in a week, unlimited couples messaging.
Note: Online-therapy.com Provides 20% off on your first month so the prices mentioned above are after the discount.
Online-Therapy.com Pros & Cons:
Pros:
All the therapists are highly qualified and certified.
The price range is very Affordable.
Accept HSA/FSA.
You can connect with the therapist via multiple mediums.
With the therapy session, they provide you with a self-help toolbox of yoga, meditation, and journal.
Cons:
They do not accept insurance.
No Mobile app.
They Do not provide any medication SERVICES.
They provide services only to adults.
Will you get a Refund if you cancel your subscription?
Online-therapy.com generally doesn't grant a refund for unused time but it always depends from case to case. In case of medical or legal circumstances, they can provide you with refund accommodations.
In case the refund is not granted they can arrange another accommodation like finding a new counselor or extending your subscription.
Final Verdict:
If you are looking for Affordable and CBT Based Treatment, you can blindly trust online-therapy.com. 4 Out of 5 people found this plateform user-friendly and easy to use. Other than Therapy They have included a self-help toolkit even in their basic plan so anyone can work on themselves with the help of these tools.
Overall online-therapy.com is legit and one can try their services if you are looking for pocket-friendly treatment.
Hope you find this review helpful. If you have any suggestions for us feel free to comment or you can email us.
Till then Keep Reading.