Are you looking for a completely free meditation app, where you can practice mindfulness on daily basis, and keep track of your sleep cycle as another meditation app provides? Well Here your research ends, Medito app is the solution to your needs.
So we decide to test this app for you and give you details about that medito has to offer you to make your life better. Below you will find a detailed review of medito app, its features, pros-cons and how you can use it.
So let's get started.
Overview of Medito App:
Medito app is developed by medito foundation, a non-profit organization. Medito app have over 1M+ Downloads. The USP of the Medito app is, it is emotion oriented so if you are starting your healing journey medito app can be a good option for you.
Due to Its Complete free Access to all users, This app can be easily accessible by all (anytime and anywhere) and if you are thinking about the credibility of the app then my dear all the courses and resources are approved by mental health professionals.
| | |
| --- | --- |
| Product Name | Medito App |
| Usability | Mobile platforms (ios + Android Both) |
| Price | Free of Cost |
| Start Rating | 4.9 |
| Best for | Guided Meditation and Practice Mindfulness |
Features of Medito App:
1. Meditation Courses: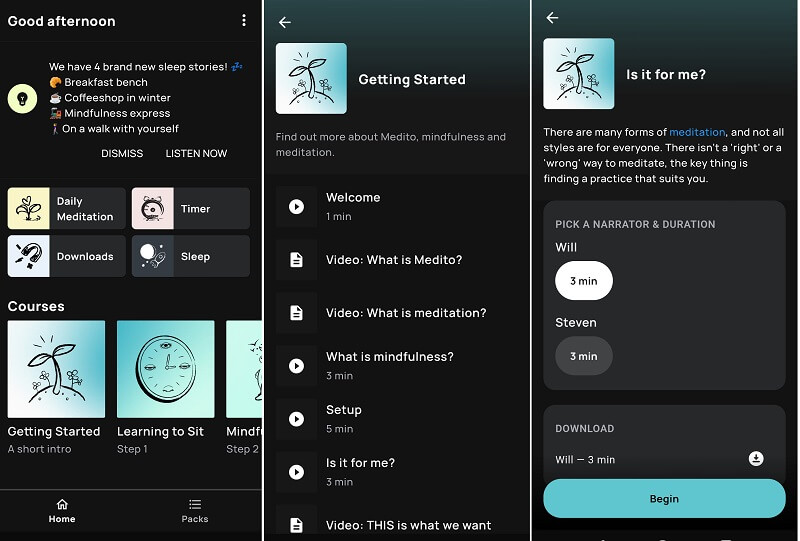 Well if you are confused about where to start then we suggest you start with Medito Courses. They Have divided these courses into steps like Learning to sit, Mindfulness, Deepening your practice, open awareness, practicing gratitude, and so on.
When you click on these courses, you will see some video sessions and audio sessions. For Audio Session you will be asked to choose a time duration according to your comfort. Select your time and For Video sessions, You will be redirected to the youtube channel.
If you are a beginner we suggest you to take each step to build a routine but if you think you are not a beginner then you can skip to the next course.
2. Daily Meditation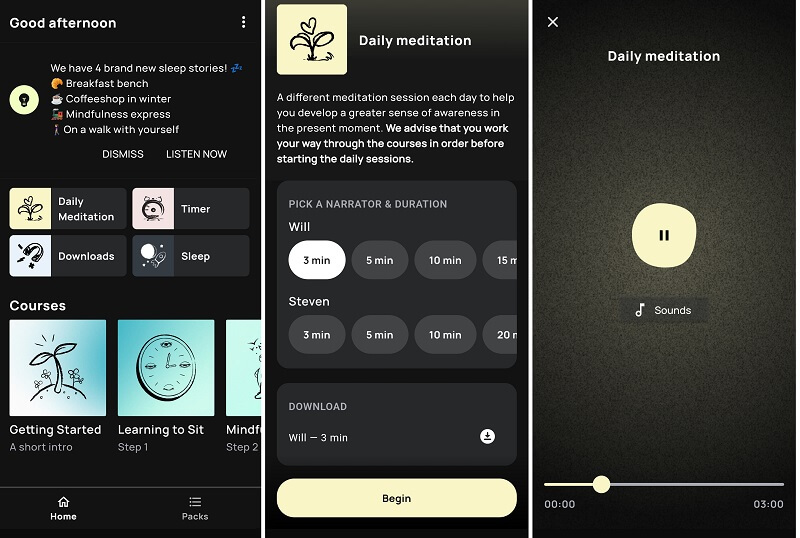 On the home screen, you will see an option for Daily Meditation, When you click on this option. Here you will have to select the time duration for you want to meditate, by default it is selected for 3 min.
When you have done choosing the time duration, Click on begin. your narrator will guide you to complete the meditation and if you are not ready yet and want to practice later you can also download the audio and you can access that later even without internet connectivity.
3. Sleep Content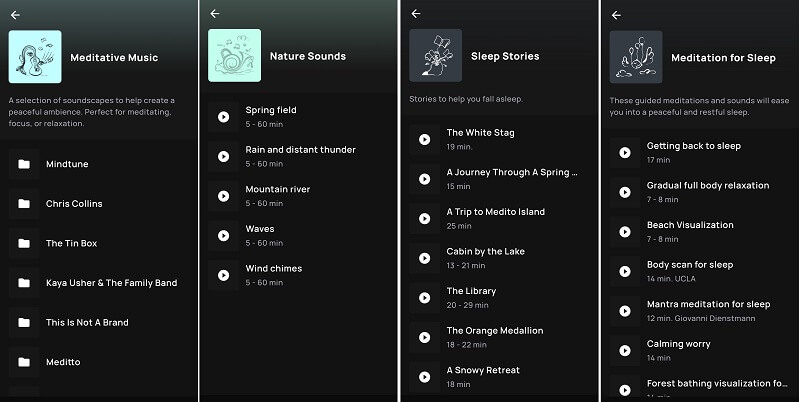 we all know a healthy sleep schedule is necessary to run body and mind properly. so Medito has provided content to improve your sleep schedule too.
Here you will get a pack of sleep meditation, sleep stories, nature sounds to calm you down before going to bed, and meditative music when you feel anxious. you can practice all these step by step.
4. Meditation Timer and Downloads:
With meditation time you can set the duration for which you want to meditate. When you finished setup the time, a bell will rank before the meditation start and end of the session.
In the Download Section, you will be able to access all the content which you have downloaded to access later.
5. 30-Day Challenge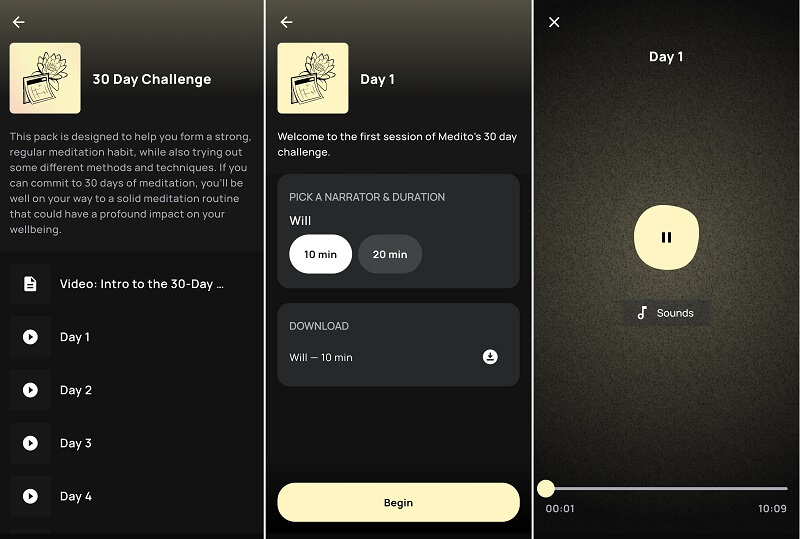 Another feature of medito for newbies. Medito's 30-day challenge is designed especially for those who want to create meditation as a habit. In this challenge, there are various forms of meditation like mantra meditation, guided meditation, body scan meditation, and many more.
6. Emergency SOS sessions and Societal crisis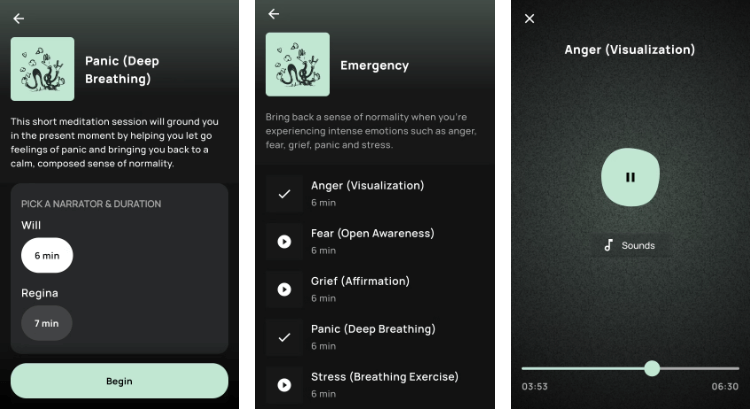 When you or your loved ones feel extreme emotions like anger, panic then from the packs section you can use Emergency SOS sessions, Pain Management, Societal crisis.
Here you will find guide how you can help yourself or your loved once you can be ready for crisis times.
7. WorkLife balance: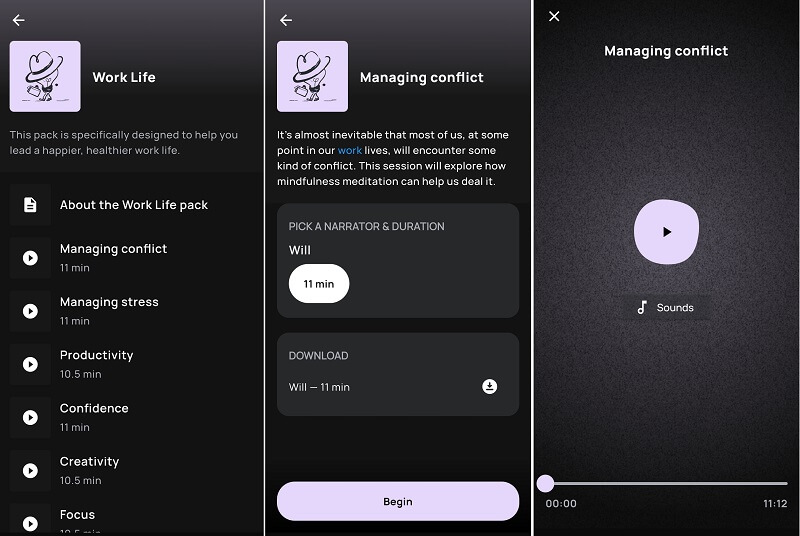 Well According to a study a Working Person Spend Most of their life with stress. they do not able to find work-life balance. To solve this issue Medito has launched a course as well. In this You will get guidance to solve workplace issues and how you can manage stress and increase creativity.
Pros and Cons of Medito App:
Pros:
100% Free, No subscription for full access
Good for those looking for guided meditation practice
Simple and sleek user interface
you can download the sessions to access them later without internet
Cons:
If Can not access sessions offline.
This App only works with audio Play.
Audio Loads very slowly
Some People Face Issues while installing the app
Can Medito Improve Your Mental Wellbeing?
In today's world where everyone is living a toxic lifestyle, Medito is helping people to adopting meditation as a habit. so they can conquer all stressful situations. All the courses and practices are approved by professionals to improve your mental health.
If you are looking for a free app to practice meditation then there is no better option than medito.
Verdict:
We all know mental health is equally important as physical health. Having such an application with amazing feature encourage all of us who don't want to spend a penny.
8 Out of 10 People who tested this app find it useful to practice meditation, practice breathing exercise. They were able to focus more and medito had improved their sleep cycle.
I hope this review of medito app will be able to solve all your concern about this app. Please try this app and let us know your experience in comments.
More From the Blog:
Fabulous App Review: Daily Planner & Self-Care Habit Tracker