Recently noticed running out of space on your Mac and a large portion is acquired by the Spotify App Cache? Wondering how a music streaming app takes up so much space on your Mac when everything you listen to is online.
Yes, it's very confusing, but it is important to clever Spotify cache Mac. Read on to find out the reasons behind it and various solutions to clear the Spotify cache on your mac storage significantly.
What is Spotify Cache?
Spotify is among the best online platforms to stream music and podcasts from all across the world. But over a period of time using Spotify would create large blocks of cache files taking up a significant portion of Storage space which sometimes could be in GB's.
These spotify cache files are temporary chunks of music or podcasts created by Spotify to load the content faster for you to have a better listening experience. Although these cache files are cleared when you restart your Mac and are loaded again when you open the Spotify App. They are not permanently deleted from your Storage.
How to Reduce the Size of Spotify Cache on Mac?
Luckily there are a couple of ways to reduce the size of the Spotify Cache on your Mac manually. These methods will help you clear the Spotify cache on Mac.
Limit the Spotify Cache storing on Mac set by your Preferences so you don't have to clear the Cache regularly on Mac.
Method 1 : Set The Exact Size for Spotify Cache.
You can manually set the exact size limit for spotify to store cache on your Mac. This will limit the total cache accumulated so that spotify can load and will be maintained.
If Spotify App is running then Quit the app.
Go to Finder, Select Go from the menu and Click Go to Folder option.
Enter the file location path into the box : "~/Library/Application Support/Spotify/prefs".
Identify the prefs file from the list and Right Click to open in Text Edit.
Scroll all the way down the document, Copy and Paste this text into the new line : "storage.size=1024" (You can choose an even lower '512' MB size also).
Before closing the document, Save it.
Now your Spotify Cache is limited to your preference and will be reduced drastically.
Method 2 : Reduce the Music Streaming Quality
You can also reduce Spotify Cache by reducing the music streaming quality to low or normal. There will be no impact on the listening experience of the Music but will reduce considerable cache storage and reduce data consumption online.
Open the Spotify app on your Mac.
Go to the Spotify menu and Select Preferences.
Locate the Music Quality by scrolling down.
Under the Music Quality section, Click on the dropdown menu and Select either Low or Normal option.
That's it, now your music will be streamed in low or normal quality and reduce cache storage to bare minimum.
How to Clear Spotify Cache on Mac Manually?
Removing Spotify Cache is safe and uninterrupted to the running of the app. Although the performance of loading content would be affected a fair bit depending on the internet speed. So you can absolutely delete the Spotify cache from your Mac to regain those precious space on drive for other items. Follow below steps to identify and clear Spotify Cache Mac manually.
Go to Finder, Select Go from the menu and Click on Go to Folder option.
Enter the following file path into the text box: "~/Library/Application Support/Spotify/PersistentCache/Storage". Or You can find the folder doing following also

Launch the Spotify app and Select the Spotify menu.
Click on Preferences.
Under the "Offline songs storage' section, identify where Spotify stores the cache.

Once the folder window is open, Delete all the cache content.
Don't forget to Empty the Trash to remove it completely.
This will completely delete all the Spotify Cache from your Mac, but make sure to repeat this regularly to remove the accumulated Spotify cache after consistently using the app to listen to music.
How to Clear Spotify Cache on Mac Using a Third Party Application?
Removing Spotify Cache from your Mac manually to regain the space on disk consistently could be annoying.
There is an easy way to delete Spotify Cache using the CleanMyMac X app. It can easily and safely help you remove all the cache files with a few clicks.
Download and install the CleanMyMac X app from its official website.
Launch CleanMyMac X app from the application folder and Select System Junk Option from the sidebar of the window, Click on 'Scan' Button to begin.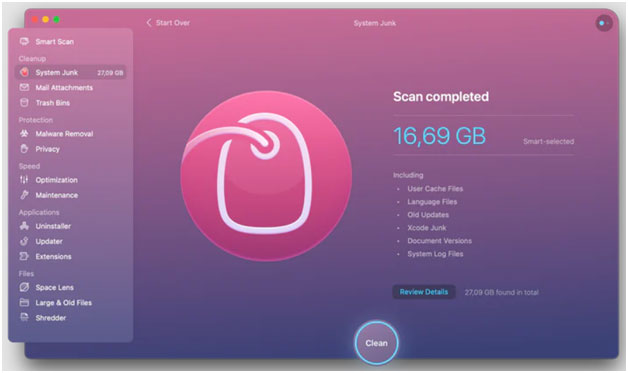 When the Scan is over, Either Click on Clean to remove all junk files or Click on Review Details to Select 'Spotify App Cache' from the list and Click on the Clean button.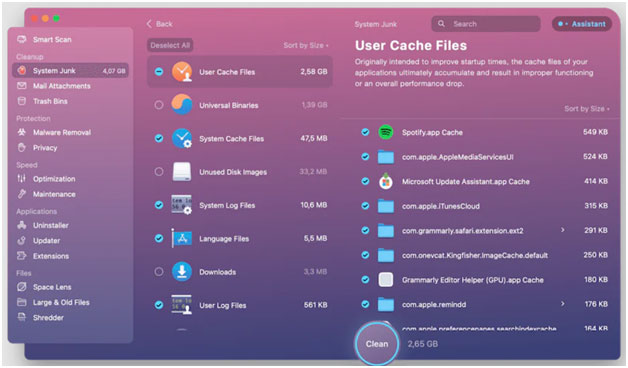 CleanMyMac X will remove all the Spotify Cache without affecting the running of the application on your Mac. Although you need to repeat this process periodically to remove cache accumulated again while using the Spotify app to listen to music or podcasts.
Frequently Asked Questions
Q1. How do I clear my Spotify Cache?
You can clear Spotify Cache either manually by locating the cache files or using the third party junk files cleaner like CleanMyMac X easily. Follow above mentioned methods to clear Spotify Cache on Mac either manually or using third party Mac cleaning tools.
Q2. Should I delete Spotify Cache on my Mac ?
Deleting Spotify Cache from your Mac will not affect the performance and the running of the app at all. Although depending on the internet speed the content loading will be affected a little bit. So yes you can delete Spotify Cache on your Mac.
Q3. How do I limit Spotify Cache on Mac ?
To limit Spotify Cache on your Mac, you can either reduce the music streaming quality or simply set the limit for storing the cache file. Read above mentioned methods to either set limits for cache storing or reduce streaming quality.
Q4. Why is my Spotify Cache so large ?
Spotify Cache can be as large as in gigabytes depending on the usage of the app. Over the period Spotify tends to keep temporary chunks of music you listen to for better experience. Read the blog to completely understand why it is so large and how to reduce it.
Q5. Why is Spotify Cache located on Mac ?
Spotify is a great streaming platform available for Mac. When you use it, it will save temporary parts of music as Spotify Cache on Mac. It is important to provide a seamless listening experience for users without any lags or breaks.
Conclusion –
For the most part a simple restart of your Mac would remove all the temporary files and caches including Spotify Cache. However, when you open the app again all the cache are loaded back again so you can either reduce the cache size accumulation by setting a limit or reducing streaming quality.
But eventually, you have to clear the Spotify Cache when it reaches beyond your preference. Then follow the above-given methods to reduce the size of the cache or completely remove it from your Mac manually or using a third-party app.
I hope These ways will help you to clear Spotify cache on your mac device. Do let us know in comments if you find any trouble while applying the above steps.
Next Read:
7 Ways to Transfer Files Between iPhone and Mac
Best Ways To Uninstall Apps On Mac